AVN Media Network has officially opened up the pre-nomination process for the sixth annual "O" Awards. Members of the pleasure product industry can make their suggestions for nominees through Friday, October 31.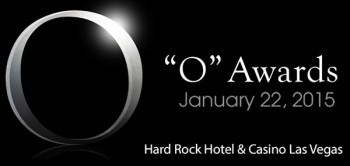 Any products released between Oct. 1, 2013, and Sept. 30, 2014, are eligible for consideration in the "O" Awards. Pre-nominations for this years awards will be accepted Oct. 1-31. To make your submissions, go here http://www.noveltyexpo.com/oawards/prenom
A highlight of the annual AVN Novelty Expo (ANE)- which takes place on January 21-23, 2015 at Hard Rock Hotel & Casino- the O Awards recognize the top pleasure products of the year. Award winners will be announced at a ceremony on January 22, 2015.
Categories for the 6th Annual O Awards are as follows:
Outstanding Product for Women: Any vibrator, dildo or other product designed specifically for women.
Outstanding Product for Men: Any cock ring, sleeve or other product designed specifically for men.

Outstanding Supplement or Enhancement: Any pill, drink or other substance ingested for an increase in performance or pleasure, or spray or cream applied externally for an increase in performance or pleasure.
Outstanding Innovation: Any product that provides a technological improvement to the pleasure products field.
Outstanding Lubricant Product or Line: Any specific lubricating product, or any collection of lubricants.

Outstanding Body or Skin Care Line: Any line of products designed to cleanse, scent or pamper the skin.
Outstanding Non-Powered Product: Any product that requires no external power source.
Outstanding Powered Product: Any product that uses batteries or electrical current.
Outstanding Lingerie Collection: Any assortment of themed undergarments.
Outstanding Accessory Product or Line: Any product or line of products used for body adornment.
Outstanding Marketing Campaign: Any campaign specific to a company, line or product.
Outstanding Packaging: Packaging for any specific product or line of products.
Lifetime Achievement: Awarded to an individual who has made significant contributions to the pleasure products industry.
All ANE attendees are invited to attend the "O" Awards on Jan 22. To register, click here.
Open only to registered attendees, the "O" Awards ceremony will have a new format that will enhance its networking potential-one of many exciting changes for ANE. This year, the AVN Novelty Expo will take over the entire Paradise Tower, with expanded networking opportunities, educational seminars and workshops.
Exhibitors will set up shop in Festival Hall, Suites, and Meeting Rooms throughout the Paradise Tower.
Only members of the industry will be granted access to the Paradise Tower throughout the show. Also, only trade attendees will be allowed to reserve rooms in the Paradise Tower . Rooms start at $109. To reserve, click here.
Details abut the show can be found at NoveltyExpo.com.
Two registration packages are also available to attendees. The first is the AEE Plus Badge, for $120, which includes admission to all AVN Adult Entertainment Expo and ANE exhibits, admission to all seminars and workshops, and admission to the Keynote Presentation.
The second passthe All Access Pass, available for $200includes all the benefits of the AEE Plus Badge as well as admission to all official parties.
To register for either package, click here.
For available sponsorship information contact aeesales@avn.com.
To register as press, click here.
Media Contact:
Brian S. Gross | BSG PR | 818.340.4422 | aeepress@avn.com| @bsgpr