Fresh off the heels of announcing its Donald Sterling XXX spoof, "Owner Gets Clipped," Smash Pictures has offered the film's lead female inspiration V. Stiviano $10K for any of her clothes now made famous by the tabloid machine.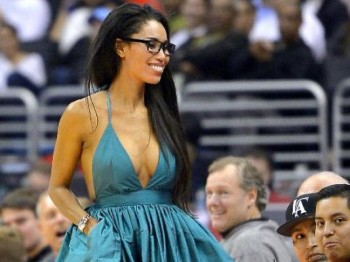 "She's very clever the way she dresses," Smash Pictures owner Dan Quinn told XBIZ, adding that the studio is particularly interested in getting their hands on her signature face-length visor, "Twinkie the Kid" T-shirt, red leather biker jacket, the white pantsuit she wore for her Barbara Walters interview, pink tutu, or anything else she has been photographed in or has worn on TV.
Besides a desire to add authenticity to its hardcore spoof, Quinn says he will donate all clothes he receives to the Erotic Heritage Museum in Las Vegas, "for the public to see." The museum is currently closed to the public, but will reopen in June.
"I can see V. actually say yes to this," another Smash Pictures rep said. "If I was her, I would give my old clothes away for $10K."
But on the off chance Stiviano says no, Smash has a plan B — the crew has already hunted down replicas of her now-notorious apparel, including her reflective visor and Twinkie shirt, to be used in the upcoming spoof.
Quinn says he found the visor through a Chinese company and had it rush delivered, noting that the clothes she made famous are now selling out like crazy on the web.
"We got the precise clothes she was wearing," a rep said. "It's unreal."
The studio has not yet issued a formal offer to Stiviano, but Quinn asserted that "the offers stands as we speak." The release will be made public in the next few days.
Yasmine de Leon will be starring in "Owner Gets Spoofed," as V., alongside Kyle Stone as Dick Spermling, Mark Anthony as Magic J, Nina Hartley as Mrs. Sissy Spermling and Harley Dean as Spermling's new ethnic model "companion." Sean Michaels and Jon Jon will also make appearances as basketball players.
The all-condom film is set to release in June. To read more about the parody on XBIZ, click here.
Stiviano entered the public eye in late April when TMZ released a polemic recording of a conversation between embattled Clippers owner Sterling and Stiviano.
In the recording from September 2013, Sterling was irritated over a photo Stiviano had posted on Instagram, in which she posed with NBA legend Magic Johnson, and proceeded to admonish her for publicizing her interactions with black people.