Los Angeles, CA/May 14, 2014 – Brunette bombshell Sophie Dee gushes about her Hollywood crushes, favorite sex scenes, and transition to mainstream films and television for the Mr. Skin Skinterview. Sophie elaborates on the nuances between adult and mainstream films, particularly her roles in The Hungover Games, A Haunted House 2 and the Fox smash sitcom 'New Girl'.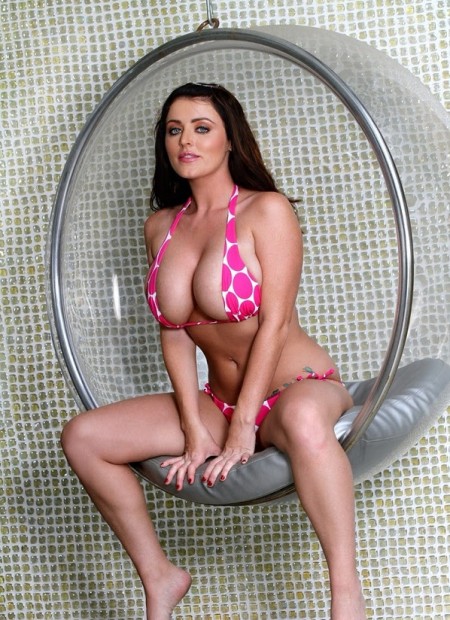 To read full Mr. Skin Skinterview, please visit http://www.mrskin.com/sophie-dee-the-mr-skin-skinterview—15525.
On her upcoming roles in A Haunted House 2 and The Hungover Games, Sophie adds, "I do think comedy is slightly easier because it is easier to be yourself and act goofy without caring too much. Horror is also fun to do, I love scary movies!"
For Galore Magazine, the buxom starlet offers up 7 practical sex tips to turn those awkward encounters in to a sensual fantasy. Turning up the heat can be as easy as taking a shower. For complete interview, please visit https://galoremag.com/legendary-hardcore-queen-sophie-dee-and-now-budding-actress-offers-7-practical-sex-tips/.
"On an adult set, we girls go through rigorous cleaning and grooming rituals to make sure that we look good, smell good, and taste good," said Sophie Dee for Galore Magazine. "Before you get busy, take a moment in the bathroom to make sure you leave a pleasing lasting impression on your partner."
Sophie Dee and Gianna Michaels will be dancing this weekend, May 15th, 16th, and 17th, at The Harem, located at 1002 N. Coliseum Blvd., in Ft. Wayne, Indiana.
The Welsh beauty can be seen in the upcoming films A Haunted House 2 and The Hungover Games, and spends her free time reviewing mainstream films at ToplessMovieReviews.com… topless. For more information about the lovely Sophie Dee, please visit www.sophiedeelive.com and follow the actress on Twitter: @sophiedee.
For more, go to http://www.imdb.com/name/nm1942808/.
Follow Sophie on Twitter @sophiedee and visit her at www.sophiedeelive.com.