Researchers urge caution over findings but say breast cancer patients with implants appear to have higher risk of death.
Women with cosmetic breast implants who develop breast cancer may have a greater chance of dying of the disease than those without, according to a study.
During the PIP implant scare, when implants made by a French company were found to have been filled with industrial-grade silicone, there were fears of an impact on women's health, but any link to cancer was eventually ruled out.
The new research does not suggest that implants themselves can cause cancer, but that cancers in women who have them may not be spotted at an early stage, leading to the cancer spreading and possibly poorer survival chances.
The findings, published online by the British Medical Journal, should be interpreted with caution, say the Canadian authors. Their systematic review combined the results of a number of different studies to come to more robust conclusions but, they say, some of the pieces of research did not make allowances for other possible explanations.
Implants make it harder to spot the growth of tumors in the breast during routine screening, which is offered to all women over the age of 50.
Even though there are screening techniques to compensate, both silicone and saline-filled implants create radio-opaque shadows. Some of the breast tissue is not visible on the film. This could lead to breast cancers being detected late, which often leads to worse outcomes.
The review is relatively small because few robust studies have been carried out looking at the outcomes of cancer in women with implants. The authors, epidemiologist Eric Lavigne and Professor Jacques Brisson, both from Québec university hospital's research center, analyzed the results of 12 studies published after 1993, mainly in the US, northern Europe and Canada.
They found that women with implants had a 26% increased risk of being diagnosed at a later stage of breast cancer than women without. Turning to five other studies that dealt with outcomes, they found that women with implants had a 38% higher risk of death from breast cancer than those without.
Although they urge caution, the researchers say: "The accumulating evidence suggests that women with cosmetic breast implants who develop breast cancer have an increased risk of being diagnosed as having non-localized breast tumors [tumors that have spread and are therefore more dangerous] more frequently than do women with breast cancer who do not have implants."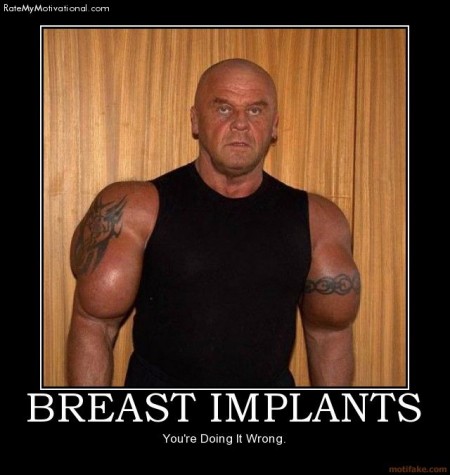 The evidence also suggests that implants "adversely affect breast cancer specific survival following the diagnosis of such disease," they add. They call for further investigations into the long-term effects of cosmetic breast implants on the detection and prognosis of breast cancer.
Dr Caitlin Palframan, of the charity Breakthrough Breast Cancer, agreed on the need for caution. "Although it shows reduced breast cancer survival rates among women who had breast implants at the time of diagnosis, the findings are not conclusive and more research is definitely needed before we can fully understand the effect of breast implants on survival," she said.
"We know there is some concern about whether breast implants make breast cancer more difficult to detect by mammogram, which could delay diagnosis, so we encourage women attending mammograms to inform their screening service that they have breast implants to ensure that all breast tissue is completely examined.
"Early detection offers the best chance of successful treatment, so we urge every woman with or without implants to be breast aware by regularly checking their breasts for any changes."
Julia Frater, Cancer Research UK's senior cancer information nurse, said: "This research suggests that breast implants may make cancer harder to detect, leading to later diagnosis. But it needs confirming in larger studies. Any woman who notices changes in the look or feel of her breasts should visit the GP for a checkup."