In the world of adult movie production, one of the most enduring archetypes is the "suitcase pimp."
A suitcase pimp is sometimes defined as "an unemployed boyfriend/husband of a porn star who takes care of the details of the star's personal and/or business affairs," but, as Tristan Taormino noted in a 2005 essay, what a suitcase pimp actually does;
depends on who you ask. The pimp himself would say he manages said performer's career…. The general consensus among industry insiders I spoke to, however, is that he doesn't even do the work of a regular pimp, useful things like making deals and managing money.
Former publicist Carly Milne explained in Taormino's article,
"He drives the girl to set, carries all her shit, wipes the cum off her face at the end of each workday, then takes her money under the guise of either a management fee or for savings, but tends to spend it on himself…."
Like mopes,  suitcase pimps have long been the butt of jokes in the adult world, and are widely viewed will distrust, and contempt – particularly if they outstay their welcome on set, or proposition performers for sex or "career management" services.
Behaving in a way that makes others uncomfortable places suitcase pimps, and the performers they leech off of, into conflict with everyone who's trying to facilitate the least stressful, most profitable way of producing adult content, i.e., performers, producers, directors, production crews and talent agents.
Without further ado, meet Raul "Squirtman" Estrella, husband of Polish-born performer Natasha Starr, and brother-in-law of 20-year old adult starlet Natalia Starr. Raul has been widely known as the "manager" of "The Starr Sisters" since they first popped up on the adult industry's radar in 2011.
At that time, the three were based in New York, but Raul and the sisters relocated to porn valley last summer, and signed with adult talent agency LA Direct Models, owned and operated by Derek Hay, in August 2012.
The three moved to California with very little; they had no car and brought little or no furniture, and in fact LA Direct provided them accommodation for approximately one month, until they found an apartment of their own at the Windsor Lofts on Lankershim Blvd in Studio City. According to multiple sources, the apartment was rented in the name of young Natalia, reportedly because she had the best credit of the three.
Fresh faces in porn valley have a honeymoon period, during which producers compete to hire promising new talent. For Natasha, the elder sister, that grace period seemingly ended around Christmas-time 2012.
Indisputably, she landed shoots with several top producers, but in time it became clear that there was substantially less interest in Natasha than her sister, Natalia. Instead, much of the enthusiasm for Natasha appeared to be due to the novelty of being part of a sister act.
On June 12th, Raul and the sisters visited Hay at his office to discuss Natasha and Natalia's bookings, and express displeasure with Natasha's career trajectory. Then and there, Hay released Natasha from her contract, and left her management in Raul's hands.
However, Hay refused to release Natalia.
Raul asked around for an attorney familiar with the industry, and Allan Gelbard was among those recommended to him. On June 16th, Raul brought the sisters to Sam Phillips' web show, Sam's Pajama Party, where they announced that they were both "free agents."
On June 20th, Gelbard wrote Hay, announcing that both sisters "hereby terminate their respective written agreements" with LA Direct. Gelbard's letter also made specific allegations of improprieties — specifically, Gelbard charged that Hay had sent the sisters to prostitution gigs "without their prior knowledge, permission or consent," and tortiously interfered with their prospective business relationships in the wake of the June 12th meeting.
Hay issued a stinging reply on June 27th in which he denied the accusations while casting Raul in a dark light. Both Gelbard's letter and Hay's response found their way to publication online that day.
According to Hay's version of events, Natasha didn't jump ship, but was let go and excused from her contract "by mutual agreement" after 10 months with LA Direct. Which begs the question, why would Hay allow Natasha to simply walk away from her contract, yet be willing to litigate to keep Natalia under contract?
In light of information provided to TRPWL that, of late, Natasha was only booking 1 scene for every 4 or 5 of Natalia's, Natasha's departure appears to have been in equal parts a business decision, and an attempt to silence a squeaky wheel named Raul.
After Hay's letter was published, Raul gave an interview to Gene Ross' site, AdultFYI. "[Natasha] shoots everything — why is she not working?" he asked. "Natasha shoots everything — anal, DP, gangbangs; she's hardcore. She does it all. There's no reason for her not to be working more than once or twice a month."??

Actually, there are reasons why the view in porn valley is that Natasha Starr is difficult to book for shoots at the present time, particularly among producers who have hired her previously.
Industry sources report several obstacles to Natasha's adult movie career: first, she has been reported to have hygiene issues – both in terms of her body and her breath (it is widely known in the LA adult business that Natasha needs thousands of dollars of dental work).
Also, as one source who worked with Natasha indelicately put it, "on a scale from 1 to 10, she's a 5 or 6," citing her face, body, and her "random tattoos." While Raul seeks to position Natasha as the next Amy Brooke, she ain't no Amy Brooke – either in terms of looks, charisma or on-camera performance.
One industry veteran summed up the problem with the elder Starr sister's career, "Raul thinks that because Natasha 'does everything' — literally anything — she should be booked more. But producers don't want an unattractive girl regardless of whether she'll do the most hardcore acts. "
In any case, as one director noted, "she's a Euro girl, with a much heavier accent than her sister, and in that category – as opposed to, say, the 'young' girl market — she has to do everything to be competitive."
A contract director for one of the adult's top producers explained that age is not the crucial factor; it mainly comes down to the performer's attitude, and how well they perform sex on camera. "They have to look like they enjoy sex," he said, because that's what customers respond to. "There's a huge market for scenes with performers 26 to 45 years old — IF their scenes get good ratings and sales."
Natasha's other scenes for his company did not garner high ratings and views, he reported, and although he shot Natasha way back in December 2012, that scene has yet to be released.
"It goes beyond physical appearance," an insider said. "Natalia is sweet, is well regarded, has a good attitude and gives her best. Natasha is 'dirty.' She's dirty physically, but also she is a 'dirty' girl who lacks manners and is uncouth. She turns people off because of this."
Lastly, when Raul drives Natasha to set he reportedly often hangs around and, as one producer put it, "he and Natasha create drama." Raul and Natasha present themselves as swingers and try to pull fellow female performers for off-camera sexual trysts. "Her and Raul's constant soliciting of girls around them to have sex with them further causes people to shy away from her," said one source familiar with their on-set antics.
Raul and Natasha's solicitation approach contains an additional element, as I witnessed first-hand at a (non porn-related) Hollywood club gathering in February 2013.
My date that evening had first met Raul and the sisters at Exxxotica New Jersey in November 2012. After conferring with Raul, Natasha propositioned my date to come home with them for sex. After she declined, the two left their seats, and walked over to our side of the table.
In front of myself and several guests, Raul asked aloud whether my date if she would be at the Exxxotica show in Fort Lauderdale, and added, "I'll get you some 'privates' together; you'll make some money, we'll have fun."
After Hay's response to Gelbard appeared online, Raul began attacking Hay via Twitter, claiming the agent is "jealous" of him. Raul later deleted these tweets.
In his interview with AdultFYI, Raul repeated some of the claims in Gelbard's letter, and added that "[Derek] has an issue with the fact that [Natasha's] married and I control the girls. The reality is these are two strong-minded modern women who know what they want. If anything I'm here to support them."
Everyone who's ever encountered Raul is aware – because he immediately informs them – that he directs the careers of both sisters. Many have also reported that Raul claims to have not held a job in quite a while. In fact, one female performer insists that Raul is currently receiving unemployment benefits that are set to run out soon.
So, how does Raul earn his keep?
Derek Hay's June 27th letter included the following passage:
[Raul,] husband of [Natasha Starr,] has previously and?continues now, to arrange for the booking of both sisters for 'privates' a pseudonym for? acts of prostitution.… only this past?week he has arranged for and administrated the enlistment of the sisters with the escort? agency aka 'front for prostitution' known as 'Pam Peaks' with website at www.pamelapeaks.com. [Raul's] efforts in this regard are not either limited to his own ?booking of the sisters or to their placement with an escort service for booking for ?'privates', for [Raul] also drives the sisters to and from such bookings and charges ?each a commission from their earnings.
Raul's interview with AdultFYI, included this jaw-dropping retort:
What hit us is me being accused of pimping the girls in L.A. We're new to L.A. so where am I finding 'Johns' in the first place to even book these girls? This is just shocking.
LMAO
First of all, Raul and the sisters have been in LA for over ten months. Where would he find 'johns'? Well, we can start with the fans who approach the three directly via social media – Raul did note in his interview that the sisters take bookings via social networking — or at public appearances such as Porn Star Karaoke.
A witness reports that, during January's AEE show in Las Vegas, Raul and Natasha gave potential clients her email address for "bookings," and two attendees of the November 2012 Exxxotica NJ show reported to me at the time that – according Raul and Natasha's own admission — Raul had the sisters booked for 'privates' throughout that convention.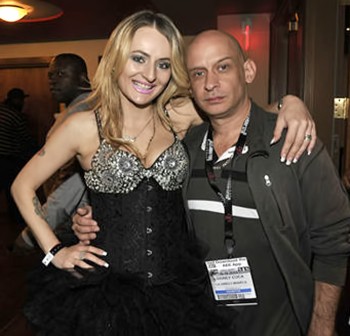 Does Raul expect anyone to believe he couldn't find clients via the recommendations of other performers who escort? Or through members of the LA "swinger" scene, with which Raul and Natasha are reportedly well acquainted?
Raul also told AdultFYI that he doesn't know who Pamela Peaks is: "This Pamela Peaks thing, I had to look her up. We called a good friend Brittany Andrews from New York. She knows everybody. Can you fill me in on this one? 'Oh, I've known Pamela for 20 years. She was a porn star and she has an agency.'"?

Interestingly, it is well known that Andrews, who is based in New York, is herself an escort and also books 'privates' for performers.
But Derek Hay got one thing completely wrong in his letter to Gelbard: Raul and the sisters' association with Peaks did not begin in the past week, or month. According to WayBackMachine's internet archive, Natasha has been listed on Peaks' site since at least October 18, 2012…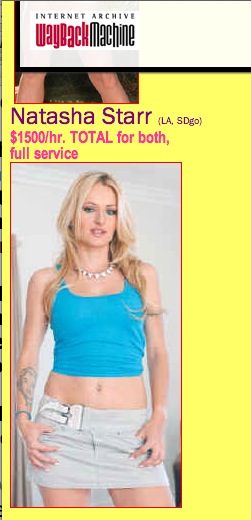 …and remains listed there…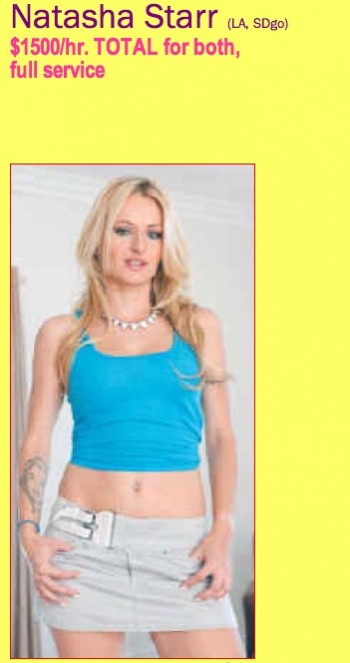 Incidentally, Peaks lives within walking distance from the Windsor Lofts, where Raul and both sisters rented their first place together in the L.A. area.
As to whether or not Raul drives the sisters to gigs, this is widely known as well. Industry sources claim that Raul and Natasha used Natalia's earnings to purchase a car, but they have not taken her to get a driver's license. Consequently, sources say, Raul drives Natalia to her gigs in a car she paid for, and then charges her a reported $100 fee to be her driver.
Raul also told AdultFYI that Hay "introduced the girls to [The Luxury Companion (TLC) escort agency]." When contacted for this story, both Hay and the principals of TLC denied this allegation. "It's totally untrue," said Hay.
Moreover, the principals of TLC say they first encountered Raul and the one of the sisters on the show floor of an east coast Exxxotica convention in 2012, but it was only a casual meeting, "in passing." They recall Raul mentioned that there was a second sister, and that was that.
Both TLC and people close to Starr sisters maintain that the sisters met jointly to sign on with the agency after they moved to Los Angeles, and did so based on the recommendation of fellow female performers. At that time, according to TLC, Raul represented to them that the sisters would be exclusive to that agency.
Industry sources also state that, when Raul and the sisters moved to Los Angeles, Raul stated that, although he and Natasha had coaxed Natalia into some swinging and amateur gangbangs on the east coast (photos of which, they claim, he showed around town), Natalia was new to escorting.
Prior to their westward move, most of Natalia's performances were in fetish and "soft" scenes. Sources say Raul frequently related his marketing strategy for the sisters, describing Natalia as the sweet one, and his wife, Natasha, as the more "hardcore" of the two.
Sources close to Raul and the sisters also insist that their relative desirability as escorts parallels their experience in adult movies: Natalia receives more escort work than her older sister, despite the fact that Natasha's "menu" is much longer, and only Natasha is listed on the public pages of escort websites.
Raul's tactic of trying to simply walk away from an agency contract is mirrored by another recent action.
After residing at the Windsor Lofts for a few months, Raul reportedly learned that it would be less expensive to rent a place in Woodland Hills. According to a source close to the Starr sisters, Raul decided they should compose a letter to the building's management, claiming the noise from construction in Universal City was interfering with their quiet enjoyment of the rental unit.
I have visited the Windsor, which is very close to a major freeway, and can report that the (daytime) construction noise from Universal City is distant enough to be no more intrusive than commonplace background noise.
The management of the Windsor Lofts didn't buy their story, either, and are reportedly charging Natalia $6,000. Raul reportedly controls the sisters' financial affairs, if not resolved (which, according to sources close to the three, he refuses to do) this debt will affect 20-year old Natalia's credit for years to come.
********* UPDATED, AFTER THIS RAN PAM PEAKS PULLED NATASHA STARRS PICTURES ********