Could you ward off HIV with an injection?
It's possible. HIV/AIDS researchers are testing an injectable version of a drug normally used to treat people already infected by the virus. Their hope is to develop a long-lasting version that may be given to people who aren't HIV-positive, but are at high risk of becoming so.
Three clinical trials have shown that antiretroviral drugs may help prevent uninfected people from acquiring HIV — a method known as "pre-exposure prophylaxis," or PrEP. But HIV/AIDS experts are debating how and when they should be used, as the WSJ reports.
Some are worried people won't stick with taking a pill every day — the form of drug used in clinical trials thus far. One organization, the AIDS Healthcare Foundation, has filed a petition urging the Food and Drug Administration not to approve one drug, Gilead's Truvada, for use by uninfected people. The group is concerned in part that people won't take the drug as indicated and that they'll stop using condoms or other prevention methods.
A long-lasting injectable drug could help ease some of those concerns. "One of the fundamental problems we have with PrEP is with adherence," says Carl Dieffenbach, director of the Division of AIDS at the National Institute of Allergy and Infectious Diseases, part of the National Institutes of Health. "People don't take their medicines. This is one of the fundamental challenges to physicians and biomedical scientists."
Long-acting drugs — such as an injection that a patient would get every few weeks or months, rather than a daily pill — could help make PrEP more acceptable, he says. "We have to find a more forgiving PrEp."
The idea is also to offer options, as with contraception, says Stephen Becker, deputy director of the HIV division at the Bill & Melinda Gates Foundation, which is helping to fund development and testing of the injection. "It's providing different choices," he says, noting that injections are the most popular delivery mode for contraception in the developing world.
Using a long-acting form of the drug TMC 278, the injection could be used by both men and women, Becker says. The drug is made by Tibotec, a company owned by Johnson & Johnson. A study is underway to determine how often injections would need to be given, he says,
Adherence is of concern too for Roy Gulick, chief of infectious diseases at NewYork-Presbyterian Weill Cornell Medical Center who is researching the potential use of another existing antiretroviral drug, called maraviroc, for PrEP. Like Truvada, it would be a once-a-day pill treatment, but with a less commonly used AIDS drug – which could help ease worries about the development of drug resistance, he says.
In a trial funded by the NIH and scheduled to begin this year at 12 sites across the U.S., investigators will monitor closely whether participants are taking the drug properly. "We're going to ask people, are you taking your pills. We're going to do pill counts," says Gulick. They'll also use a pill box that sends an electronic message to a server every time it's opened, and "will use texting to ask people in random fashion if they've been taking their pills," he says.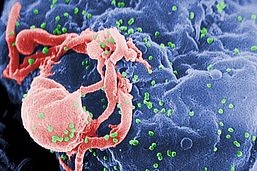 Source Wall St Journal