(Chicago, IL / January 31, 2023) — Age positivity model Elaina St. James is seeing the flip side of growing older in an online world; despite the glory of youth and nagging pull of ageism that persists in every corner of today's society, this middle-aged Midwestern mom says that no other time in history has offered so many opportunities for 'seasoned' adults… particularly women.
St. James, a top moneymaker on OnlyFans with a wildly enviable subscriber base in the thousands of paying subscribers, reminisces about "a time in my teens when I really wanted to model as a profession, and I was turned down for being 'too fat, too old'… I was 18 years old, 5-foot-10 and 130 pounds! Now, at 55 years old and 165 pounds, I actually am a full-time model – making six figures for the past two years."
She describes enrolling in a modeling school in 1985 to launch her career: "I had the height and was told I was photogenic, and was starving myself to achieve the elusive Size Zero. I was also told to consider having my full lips reduced in size.  Yes, really.  This was before plump lips were in and I tried to make them look thinner with makeup. I did some local promotional modeling, but by my mid-twenties I gave that up to focus on my career in sales and eventually become a Mom.
"Fast forward about 30 years and I now find myself posing for photos and making reels on social media platforms with great success.  What a wonderful and ironic surprise that at 35 years and 35 pounds later, I am enjoying the kind of achievements I could only have dreamed about in 1985. I think of that insecure 18 year old, starving herself and doing her best to conform to the fashion standards and wish I could have told her to eat the cookie, enjoy her life – as her chance was coming, someday.  The internet is the great equalizer.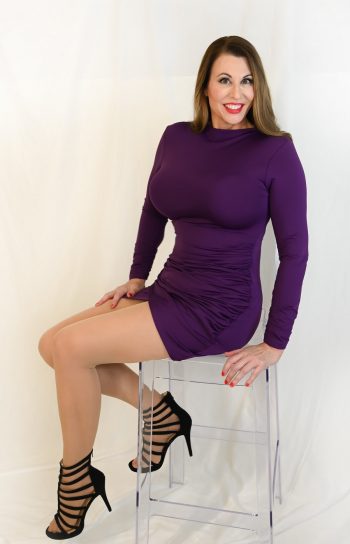 "There are no recruiters or heads of a modeling agencies to block the gate to be seen by millions of people.  We are all free to express ourselves and show ourselves as we feel comfortable.  It really is an amazing time!  This freedom, of course, is not all sunshine and roses. Keyboard Cowboys often feel the need to troll with negative comments that are eerily similar to the Modeling Agency bigwigs back in the day. I do get comments that reflect "too fat, too old" bullying online.  Ironically though, no one ever tells me my lips are too full. I guess that's progress!
"My professional mission is to bring smiles and positivity with the photos and reels I post.  My goal is to radiate age and body acceptance and positivity – inspiring people of all ages to believe that life can begin again at any age.  In my case, 54."
St. James, who launched her OnlyFans career in April 2021 and now boasts many thousands of loyal followers thanks to her fabulously cheeky content highlighting a playful sense of humor, can be found at: