I recently saw a sticker that read, "Dear God, please protect me from your followers."  That sentence rang true for me this past week, once I began a series that involved investigating XXX Church and organizations who are lumped together with them.
When interviewing a gentleman who is closely affiliated within the adult entertainment community, he shared the following reply when asked if he thought XXX Church and organizations like it were ministries or businesses: "You think there is a difference Vanessa? That's all ministry is – it's a business and a cut throat one at that." This statement kept me interested in all faith-based organizations who focus on sex workers, adult performers and strippers. I wanted to see if any of these organizations wanted more than attention and money while making themselves look like saints helping sinners or, if there are indeed organizations who do actual good.
During the process of research, I have been accused of being directed by others who have their own agenda, that I am working on a 'smear campaign', that there is 'no story here' – or that my blog was to small for anyone to care what I thought. What is interesting is the manner in which some organizations founders dealt with being asked uncomfortable questions and the type of answers they provided.  You'll read more about that in the final installation.
So we can all be on the same page, here is how I moved forward from the initial reading of Jessica Drake's blog:
I contacted Jessica Drake and interviewed her and emailed with her.
I contacted Pastor Craig Gross of XXX Church interviewed him and emailed with him.
Anything you will read is all first person accounts, no second-hand information was accepted.
Sources were secured from searching social media and 48 hours of initial research before my initial post.  Since then, I have conducted interviews with people who have provided first hand insight with the organizations I will be covering, I did research over a 48 hour period and likely logged about 25 hours of research and interviews
All of the organizations I will share about were asked the same questions, including being asked to reveal their financial records, IRS filings, etc.
You will read in the following weeks my take aways from the conversations, interviews, research and the attitudes of response by those who lead these organizations or ministries.
First up was Treasures, a Faith-based non-profit in LA, run by Harmony Dust. It is widely recognized that Treasures was the first organization to reach out to women in strip clubs.  Harmony Dust has a best-selling book, Scars and Stiletto's, she is a frequent speaker at faith-based events and a single mother. Treasures does outreach and offers a support group to women in the sex industry (strippers, porn actresses or sex workers). Dust has a more personal reason for starting her organization:
"I myself am an ex stripper and my boyfriend became my pimp.  After I went through healing and recovery, I wished I would have had something like Treasures at the time I was dancing. It would of benefited me, so that is why I started it." Treasures has a care team for the women they serve as well as therapist-led support groups and workshops.  Treasures helps these women by building a relationship with them and doing day-to-day life with them. Treasures team consists mainly of volunteers. I wanted to know what screening process, if any, goes into choosing them.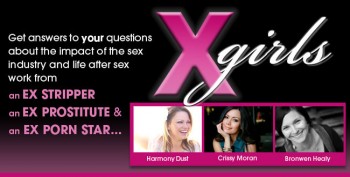 Shelley Lubben's Pink Cross and more– Continue reading
Are they Charlatans or Shepherds? Part I, by Vanessa L. Pinto