I know its been awhile since I've run a Spotlight. Running a fantasy sports empire is very time consuming, fortunately, I have a few days in between basketball and baseball.. 
Why did you decide to do porn/how did you get into it?
I had moved to the Bay Area to live with my long distance boyfriend, and knew Kink.com was nearby. I'd already been camming, and saw some other girls start there, so figured I'd jump right into girl/girl. Boy/girl came later.
When did you shoot your first scene?
I shot my first scene in October 2014. It was a solo Fucking Machines shoot for Kink.com, and just a few days later I shot on Electrosluts for them with Aiden Starr.
Do you think 2 hams for 20 bucks is a good deal?

I wouldn't know! I don't eat meat.
What have you done so far?
I've done girl/girl, BDSM/fetish, boy/girl, threesomes/group (but no gang bangs), and did some anal for awhile before my body just said NOPE!  I did exclusively girl/girl for the first year and a half, aside from one scene.
Who do you have in NCAA Final 4? 
I don't think I've ever paid attention to sports. That's basketball, right?
Where are you from?
I've lived the majority of my life in St. Louis, and recently moved back. It's home, and I love it.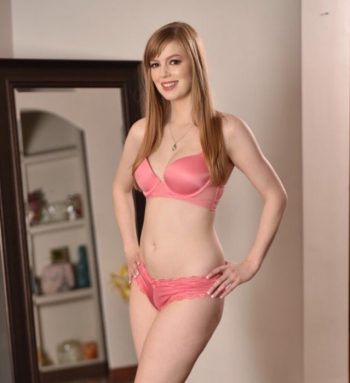 What is your To Do List? (B/G, G/G, Anal, etc.)
I'm pretty much doing all I can do, besides maybe a blow bang.
Were you nervous the first time you had anal?
I did it first in my personal life, and it hurt so badly when it went in that I cried. I was a little nervous before, and terrified after. I finally worked up the courage to try it again, and was able to enjoy it for awhile.
Are you pro Bush?
I don't really have a preference, but do have a nicely trimmed bush myself.
Who is on your To Do List?
Oh my god, so many people! Isiah Maxwell, Ricky Johnson, Penelope Reed, Ivy Aura, Riley Reyes, Kissa Sins… I could go on and on!
What is your favorite position?
You know, my answer to this changes so often. Right now I'd say spoon and maybe standing doggy (like leg on counter or against wall).
Who do you think would win a fight between Peter Dinklage and Tom Cruise?
Peter of course!
What living celebrity would you like to have sex with?
Rihanna would be amazing. She's incredibly hot!
Where can your fans find you?
Twitter @missdollyleigh and Instagram @dollyleigh
Check out Dolly on FreeOnes