Female pupils are not being offered potentially life-saving vaccine at schools that oppose premarital sex.
Schoolgirls are being denied a potentially life-saving cervical cancer jab at their schools on religious grounds.
Some schools in England have opted out of the HPV vaccination programme because their pupils follow strict Christian principles and do not have sex outside marriage. The jab guards against two strains of the human papillomavirus (HPV) virus – 16 and 18 – which cause 70% of cases of cervical cancer. It is offered routinely to girls aged 12 to 13.
But an investigation by GP magazine found 24 schools in 83 of England's 152 primary care trust (PCT) areas were opting out of the vaccination program, many of them on religious grounds.
The magazine found the majority of schools opting out did not tell their local GPs, where the girls could be offered the vaccine.
Just two of the 15 PCTs where schools are denying the vaccination course told GPs of their decision.
Only five of the 15 PCTs said they informed pupils or guardians how to obtain the vaccine elsewhere, the figures show.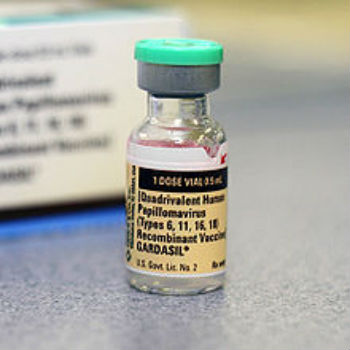 The reasons schools gave for not giving the jab included "not in keeping with the school ethos", "pupils follow strict Christian principles, marry within their own community and do not practise sex outside marriage" and "the school does not want parents/students to feel pressured by peers or the school setting".
The Royal College of General Practitioners (RCGP) said GPs needed to be informed about which pupils were being denied vaccines at school to help cut cervical cancer deaths.
Every year, 1,000 women in the UK die from cervical cancer.
RCGP immunization lead Dr George Kassianos told GP magazine: "If GPs are going to be provided with vaccines and there is an agreement that GPs can vaccinate those falling behind, then it is even more important that GPs are informed of who has missed HPV vaccination at school.
"GPs also need to know of completion of vaccination courses.
"No matter which system you examine, here in the UK or abroad, there will be parents or individuals who will refuse vaccination.
"None of our immunizations are compulsory. We therefore must accept that some children or adults will not be vaccinated. It is hard to understand how immunization against cancer can be rejected but that is how it is out there in the community."
Dr Richard Vautrey, the deputy chairman of the British Medical Association's general practitioners committee, said: "It is a concern that so many areas are reporting that schools have refused to allow their children to receive HPV vaccine on the premises.
"This is placing their children at risk in later life and should be challenged. It is also a concern if PCTs are not informing practices about HPV uptake. Once the responsibility for this activity has been transferred from PCTs to public health departments based in local authorities next year there should no longer be any excuse for failing to protect children in this way.
Source: Guardian
See also:
Study: 1 In 4 Couples Share HPV Strains
Calls for teenage boys to also receive HPV vaccine against sexually transmitted virus