A rampaging naked man used 'ninja-style' moves to repeatedly escape being pinned down by three police officers – even after they tasered him.
Incredible footage shows the man storming down busy Indianapolis streets lashing out at anyone who approaches him before the officers catch up with him.
He throws a punch at one policeman before another officer fires the man with a taser gun. The suspect crumbles to the ground, seemingly defeated, but the fight is only just beginning.
The man, who appears to be under the influence of drugs, is dragged up by the officers who are desperately trying to detain him.
He immediately starts struggling with them and an officer continuously tasers him as he screams out.

Now attracting a crowd of amazed onlookers, the man once again escapes using a ninja-style kick and starts running down the road.
The onlooker capturing it all on camera cannot believe what he is witnessing and narrates: 'This guy is like a ninja! Holy crap!

'No way! That guy's strong, he's got to be on something.'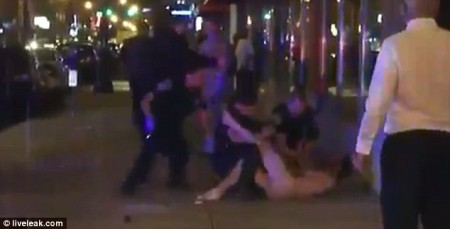 The video, which was uploaded onto LiveLeak, shows the crowd quickly pursuing the naked man.

With the help of a member of the public the police are eventually able to take the man to the ground and handcuff him.
He continues to scuffle with the officers and throw his legs around as police tell the gathered crowd to back away.
It is not yet clear whether the man was on drugs and what charges he could face.
The incident came in the same week that a man, wearing nothing but socks, injured seven people and caused two car collisions went he ran amok in Arizona.
After crashing into a Porsche the naked man car-jacked a Toyota Prius, sped off and collided into four other vehicles.
The Porsche driver was seriously injured while a pregnant woman in another car broke both her legs.
The suspect was taken to a nearby hospital were he was evaluated for drug use and mental issues.
Source: MailOnline