Vivid Entertainment walked away with seven wins Thursday night for Wetwork at the 2015 XBiz Award Show at the Los Angeles JW Marriott hotel.
The sexy drama about  spies, international intrigue, assassins and prostitutes of every sort was honored as Feature Movie of the Year while Eli Cross was named Director of the Year and Steven St. Croix was picked as Best Actor in a Feature Movie for their work on the film.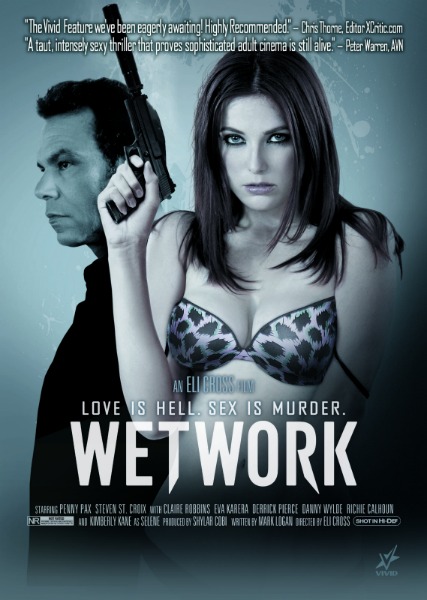 Other XBiz Awards went to Mark Logan for Screenplay of the Year; Nic Danger and Alex Ladd for Best Cinematography; the Vivid Studio for Best Art Direction; and to Robert April for Best Editing.
"The way the industry has changed, going in with a big, original feature you really feel like the underdog. We were up against a lot of great projects so it's fantastic to get the recognition in a field like that," said director Cross.
"A lot of people really committed to this project, and put in an enormous amount of work; Penny Pax and Steven St. Croix each gave career-defining performances. The art direction by Kylie Ireland and Andy Appleton was subtle, incredibly meticulous and well thought-out, so it's gratifying for them to have gotten that award. I'm so grateful to XBiz for the accolades, and to everyone who worked on the film and gave it their all, but mostly to Marci and Steven Hirsch from Vivid, who've been behind this film 100% from day one. They gave us the creative freedom and support to really create something special. Vivid has a legacy of releasing the best adult features in the world, and it's very meaningful for Wetwork to be a part of that proud history," Cross added.
St. Croix said he "really wasn't expecting anything this year, so I'm humbled and grateful. I think it's awesome that I won awards when I started in movies with Vivid many years ago and now, as they transition to the new adult market, I win again for one of their features."
Earlier in the week Wetwork won the XCritic.com 2014 Best Adult Feature award and Steven St. Croix was named the Best Male Actor award for his role in the movie.
About Vivid Entertainment: Founded in 1984, vertically integrated Vivid Entertainment, known as the leading source for quality adult film entertainment, has created wide brand-name awareness through its films, innovative marketing and licensing programs.  Vivid-branded products range from condoms to vodka to apparel to gentlemen's clubs.  Vivid's movies are seen online, in DVD, VOD and on VividTV worldwide.  Its Vivid-Celeb imprint made "celebrity sex tape" a household word and helped launch the Kardashian phenomenon in the process.  Vivid is the most awarded studio in the history of the industry.  Vivid Radio—Vivid's 24/7 radio channel—is available on vividradio.com on the SiriusXM app.  For more on Vivid visit twitter.com/VividCorp or facebook.com/Vivid.
Media Contact:  For more information contact:  jackie@vivid.com or 800-762-4761