Jonathan Koppenhaver, aka War Machine, will be going to trial in Las Vegas District Court. Friday, a justice of the peace ordered him to proceed to trial on charges including attempted murder after a preliminary hearing that included graphic testimony from the victims.
The disgraced mixed martial arts fighter accused of beating his ex-adult film star girlfriend to near death laughed as she testified tearfully.
Jonathan Koppenhaver, 32, better known as disgraced MMA fighter War Machine, was scolded Friday by a Las Vegas judge for his crass behavior during his preliminary hearing for a slew of charges including attempted murder.
At the end of today's hearing, War Machine learned that he will indeed be going to trial in Las Vegas District Court.
He stands accused of severely beating his ex-girlfriend Christy Mack and her companion in a brutal attack on Aug 8th, 2014. With the addition of two new charges added today (Sexual Assault, and Battery with Substantial Bodily Harm) War Machine now faces 34 counts, including attempted murder, assault, battery, open and gross lewdness and strangulation.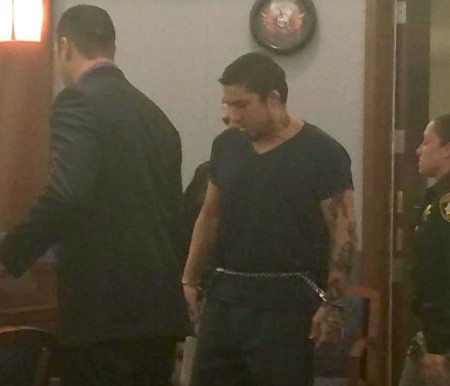 Justice of the Peace Melanie Andress Tobiasson ordered Koppenhaver to proceed to trial on charges including attempted murder after a preliminary hearing that included graphic testimony from the victims.
The man who was with Mack at the time of the attack, Corey Thomas, described the beating in detail during Friday's hearing.
Thomas testified that he and Mack were dating and had fallen asleep fully clothed on Mack's bed when Koppenhaver entered her home and found the pair on August 8.
According to Thomas, the fight started quickly after Koppenhaver arrived. He claims the MMA fighter bit him on the cheek and arm during the attack, and he remains physically scarred from it.
He told the court he was taken to the hospital with a broken nose and a dislocated shoulder.
"My face was covered in dripping blood. She was very scared to death," Thomas said.
Thomas said War Machine agreed to let him go, if he didn't go to the police. Thomas left Mack at her home and went to police to report what happened.
Thomas told the court he debated for about 30 minutes whether or not to report the incident after leaving Mack's home.
Christy Mack testifies
Adult performer Christy Mack took the stand after a short break for lunch.
Mack testified that War Machine left her in May, and she and Corey Thomas began dating around early June. She claimed that War Macine kept in touch even though they were "broken up".
She told the court about her relationship with War Machine that she describes as often violent. She explained how he had strangled her before and cried as she described how he had forced her to have sex.
At one point, the judge reprimanded War Machine for laughing during Mack's testimony.
Prosecutor: "Was there sexual violence?"
Mack: "Yes."
Prosecutor: "Judge I would like the record to show that Mr. Koppenhaver is laughing and shaking his head."
Defense: "Objection, He wasn't laughing."
Justice: "I watched him laugh."
Mack also testified that War Machine often threatened to kill her and her family. "He told me he would kill me. He also told me he would kill my mother."
Mack was asked to listen to playback of the 911 call. She could be heard screaming "Jon! Stop it Jon!" repeatedly in the background. A tearful Mack testified she was watching War Machine beat Thomas.
Mack told the court that on the night of the attack, War Machine made her get in the shower. She doesn't remember the first hits, she said, but she could taste her own blood.
She was also asked to describe her injuries after the attack, which included facial and dental damage, a lacerated liver, and injuries to her leg.
This preliminary hearing had originally been scheduled for October 15, but was rescheduled after War Machine attempted suicide in his jail cell.
Koppenhaver will be arraigned in Las Vegas District Court on Thursday.