(Woodland Hills, CA) February 13th, 2014 – There are many people in this world that claim they will try anything once. But alas, they rarely ever do. Unless those people are Stoya, the Adult Film Star, writer, aerialist, and cat enthusiast. Then they try everything for the new WoodRocket.com original series, Stoya Does Everything.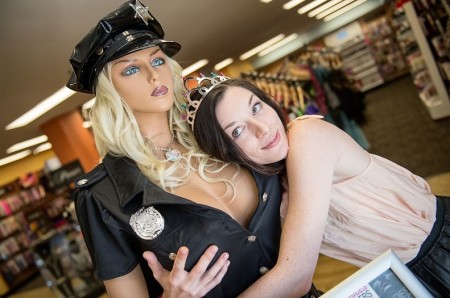 From the website that brought you the hit web series James Deen Loves Food & Game of Bones, comes a brand spankin' new series that showcases the many funny, provocative, sometimes dangerous, and sometimes naked adventures of the young woman the Village Voice dubbed as "The Prettiest Girl in New York".
As a popular Adult Film Star, Stoya has appeared in many, many, many scenes. As a well-known writer, she has written for Vice, Esquire, and Homme+. And as an adventurous spirit she has bravely put her trust in WoodRocket.com's digital hairy palms for the web series, Stoya Does Everything. In each episode our hostess experiences something new & interesting & hot & hilarious. Stoya shoots guns, goes ghost hunting, plays in lingerie with kittens, tries to be a wrestler, tests out edible lubes, and more. Stoya Does Everything!
Even the music on Stoya Does Everything is exciting! Her theme song is "(I Can't Handle) Moderation" by the incredible Danko Jones.
Stoya Does Everything begins February 13th on www.woodrocket.com, with the first episode, "Guns". In this episode Stoya gets sexy, patriotic, and a bullet to the chest! Catch all of the excitement of this amazing episode and stay tuned to WoodRocket.com for more free episodes!