I can't be the only offended by this picture:
For those that aren't caught up, after Dakota passed, APAG, And James Bartholet decided to have a party. Instead of making a cool banner with a picture of Dakota, they decided to make a red carpet event and go full AVN. The only problem is AVN is a legit organization, while APAG and Bartholet are whats wrong with the adult industry.
The only thing I see in that picture is the guy who gave Dakota drugs, then, once again, used the death of a industry worker, to promote himself, and do even more drugs..
And he did the with the full backing of APAG President for Life Alana Evans, and the rest of the hags at APAG. And do you think Misti Stone stays with Bartholet because he writes great PR?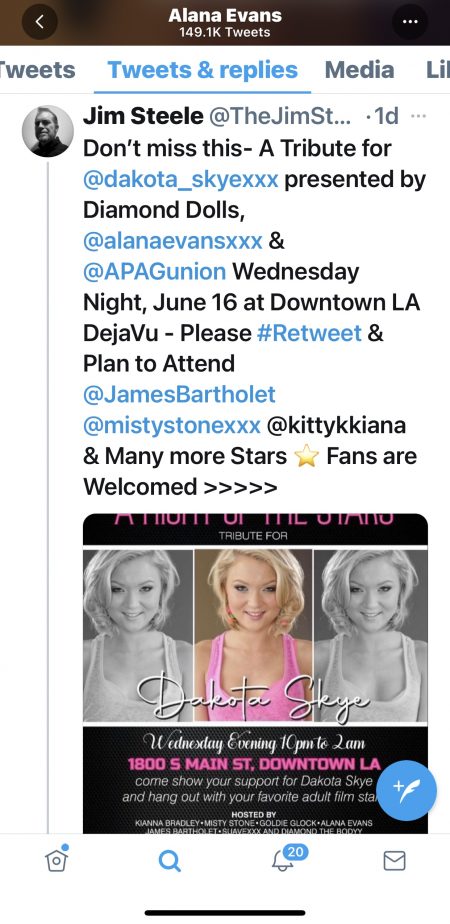 Angela White, Abella Danger, Rily Ried, Cherie De Ville, Adriana Chechik, Legendary Wordsmith Peter Warren, Aaliyah Love, Brett Rossi, those are stars.  Looks like the 'A Night Of Stars" was more of a "line up the coke and give me a straw" get together
Instead of making this about Dakota, you made it about yourself…Like who the fuck makes a banner like that?  Fucking self absorbed losers, that's who.
There was a time when APAG, mainly Melissa Hill, called out James for his predator like behavior, Now APAG parties with him.
I have like 4 or 5 people in adult that I consider friends, none of them like James, but if they did, you think i'd attend a drug party with him to "celebrate" one of them passing?  I'd probably beat him for trying to interject himself into it, then pour a protein drink all over him. Like the witch in the Wizard of OZ,  he would melt away
You would think that APAG President for Life Alana Evans, and the "1000" members she claims to have could come together an do their own thing without the guy who gave her drugs. They could call it "The Woke Menopausal White Women Party"
Disgusting