CHATSWORTH, Calif.- Two of the biggest names in adult entertainment, Alexis Texas and Tommy Pistol, have been enlisted to jointly preside over the 2015 AVN Awards ceremony, which returns January 24, 2015, to The Joint auditorium at Hard Rock Hotel & Casino in Las Vegas.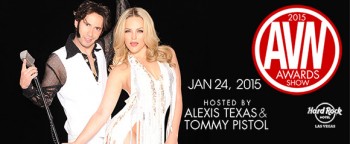 This will mark the first time in 20 years that a male performer takes on hosting duties at the AVN Awards, since AVN Hall of Famer Steven St. Croix handled the honors in 1995, preceded by three-year-in-a-row host Randy West, one-off Tom Byron and two-consecutive-timer Rick Savage, all Hall of the Fame members as well.
And Tommy Pistol is more than a fitting successor to those industry pillars. A discovery of Joanna Angels, he entered the industry alongside the alt-porn pioneer as one of the core members of her BurningAngel family, and proved such a formidable talent that he nabbed the 2007 AVN Award for Best Male Newcomer.
This year, the promise of that first trophy was borne out when Pistol received the AVN Award for Best Actor for his masterful comedic performance in BurningAngel's Evil Head. In the years between, he has been one of the most popular personalities on the AVN Awards stage, eliciting deafening cheers each time hes strolled onto it.
Said AVN Awards director Gary Miller of the decision to return to adults male talent pool for this top role in the show, "Its been a long time coming, but I think we picked the right guy for the job, and hes going to do great."
Commented Pistol himself, "What can I say? I am honored and ecstatic beyond belief. I have been going to the AVN Awards Show for a long time. I never thought hosting it was even a real possibility. Thank you, AVN, for trusting me on such a special event. I promise I'll make you proud!"
As for Alexis Texas, she has consistently ranked as one of most sought-after names in the business since her start in 2007. Her career highlights have included gracing the cover of Hustler magazine's 35th anniversary issue, holding a three-year reign as Elegant Angel's Buttwoman, becoming an exclusive contract girl for Adam & Eve Pictures, and this year having her most hallowed asset officially decorated by winning the AVN Fan Award for Hottest Ass.
"I'm really excited that I get the opportunity to host the AVN Awards," Alexis enthused. "I was pretty shocked at first, because you never know with AVN who theyre going to pick to be a part of the show. Ive been in the business for quite a while, and never got such a big role to play at the show, so I was pretty shocked, but I was definitely really excited and up to the challenge."
"It's a really big deal, and I'm pretty excited to host with Tommy," she continued. "We have kind of a Sonny and Cher thing going on, which I think is going to bring a really fun feel. The fact that he has a really great personality, and Im pretty funny myself, I think that its going to make for a really exciting, fun show."
Tickets for the 2015 AVN Awards are now on sale. For purchase inquiries, email tickets@avn.com .
For sponsorship information, email aeesales@avn.com.