Porn Star Turned Comedian Alia Janine Returns to The SMUT Show at NYC's The Stand, also performing at Gotham Comedy Club's New Talent Showcase
New York, NY – October 27, 2014 –Porn star turned comedian/podcast host Alia Janine returns to New York City's Gotham Comedy Club this Wednesday, October 29 at 9:30pm. She is also performing in the new monthly SMUT Show at The Stand comedy club this Thursday, October 30 at 11:59pm.
"I am very excited for all of my up and coming shows! I have been working hard to make a name in the comedy world. I think my hard work is showing through all of the talented people I get to work with, and the amazing shows I get to be a part of."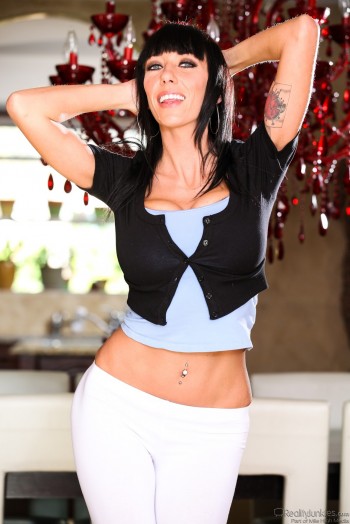 The SMUT Show will also feature top comedians, Christian Finnegan (Comedy Central, Netflix), Yannis Pappis (Comedy Central, Jimmy Fallon), Adrienne Iapalucci (Last Comic Standing, Letterman) and Luis J. Gomez (Last Comic Standing, The Guys Code), and is hosted by Jonas Barnes and Lauryn Petrie.
Alia Janine will also be a featured guest on Sirius XM's The Jay Thomas Show on this Tuesday at 5pm EST on Sirius XM Indie Channel, and fans can enjoy her www.thisis50.com interview here http://www.thisis50.com/profiles/blogs/alia-janine-speaks-on-transition-from-porn-to-comedy-ti50 conducted at The Stand.
Gotham Comedy Club is located at 208 W. 23rd Street, New York, NY. 10011 and you can follow them www.gothamcomedyclub.com and on www.twitter.com/GothamComedy. Tickets are $12 and to call for reservations 212-367-9000
The Stand is located at 239 3rd Avenue, New York, NY 10003 and you can follow them on www.thestandnyc.com and on www.Twitter.com/TheStandNYC. Tickets are $5 and to call for reservations 212-677-2600.
You can follow Alia Janine on Twitter at www.Twitter.com/theAliaJanine and on her website www.aliajanine.com and can listen to her Scatterbrains podcast on www.scatterbrainspodcast.com and follow the show on Twitter at www.Twitter.com/scatterbrainPOD.
About Alia Janine:
Alia Janine Dailey Willis grew up in Wisconsin with her mother, a registered nurse; her stepfather, a warehouse manager; her father, a retired Vietnam Veteran Sergeant; her step-mother, a C.P.A.; three step-brothers, and a half- brother. Alia's parents were never married, and with both of their other marriages, Alia moved a total of 28 times and went to 12 different schools in 3 different states.
Alia was born and raised in Milwaukee, but currently lives between New York City and Los Angeles. For the past 10 years Alia has been an adult entertainment performer, exploring all facets of the adult industry. Alia can also be seen in music videos, cable and regular television shows, YouTube comedy skits, featured films, books, and so much more.
She debuted in the adult film industry in February 2009 with "Mamazon" and has since appeared in more than 150 scenes for most of the biggest companies in the business. She has been nominated for multiple adult industry awards for her work.
Alia is retired from performing in adult films she is currently working on her podcast, The Scatterbrains Podcast, which is a part of her new network The Misfits Network, as well as, her long awaited career as a professional comedian. Performing stand-up is something Alia has dreamed of doing for years, and she is finally making those dreams come true!