HOLLYWOOD—Former Disney exec and now officially resigned Miramax chairman Richard Nanula has gone M.I.A., at least from the media viewfinder, in the wake of the sex scandal that first broke about a month ago when TheDirty.com posted pictures obtained from TrinityStClair.com of a man appearing to be him performing sex acts with Wicked Pictures contract girl Samantha Saint.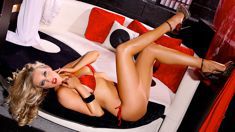 Well, if new details coming to light about Nanula's history of sexual indulgences are any indication, his alleged rendezvous with Saint was just the tip of a mountainous iceberg of porn stars and prostitutes. And the reason we don't lump those two groups into an all-inclusive hyphenate is because, contrary to widespread belief, they are not always one and the same—a fact brought into stark relief by Nanula's apparent tactics in arranging his interludes with those not in the business of doing "privates."
Not that Nanula—who officially vacated his posts at Miramax and parent investment firm Colony Capital as of Sunday, July 7—hasn't purportedly availed himself aplenty of the customary, straightforward cash-for-services exchange; in fact, numerous news sources report that his ex-wife Tracey accused him in their divorce proceedings of secretly spending sums of as much as $10,000 on such services. What's more, whispers around the adult industry say Nanula has been a regular patron of countless girls who do work the "private" sector.
But what about those who don't? What's a powerful Hollywood magnate to do when, no matter how much money he dangles before a porn starlet's eyes, she flat-out refuses to partake in any sexual activity that isn't part of a legitimate, aboveboard adult production? Samantha Saint, so she and everyone we've consulted about her swears up and down, is one such starlet. Which has left many wondering how she ended up in the compromising photos at the heart of this scandal that would suggest otherwise.
In an exclusive interview with AVN, Saint laid out exactly how such a thing came to pass.
The job, she explained, "was booked through [talent agency] ATMLA, who I was with at the time. That was around June 1 [2012], I believe, was the actual day of the shoot, and I was paid my boy/girl rate, $1200, and it was a content shoot for Trinity St. Clair's website. And the talent never changed, it wasn't anything that I walked into the situation and this was changed, this was changed, this was changed. It was still for her site, there was a camera there; Richard had a stage name, I guess, and I did see his test and IDs, we did all the paperwork. I had no reason to believe that it wasn't what it was supposed to be."
One thing that did change, Saint noted, was that St. Clair was originally supposed to be in the scene as well, and ended up not participating.
"That was the first thing, I guess you could say, that was off," she continued. "At the end of the scene, Trinity paid me; it was cash in an envelope, and this is how at that moment I knew something that happened wasn't right. On the envelope it said Colony Capital, and so once I got back home, I Googled Colony Capital, and you could see, like, 'Click here to view partners,' I clicked on it, and I saw Richard. So that's when it really raised a flag with me."
In light of her suspicion that Nanula was not the professional performer she'd been led to believe he was, Saint said she dispatched her attorney and ATMLA's then owner Shy Love to "follow it to make sure that it was indeed posted on [St. Clair's] site for content. Otherwise, we would have to take legal action. And it did go up on her site."
Should any further verification of this be needed, Saint said, "I actually have the invoice still from ATMLA that says the location, who it was for, the amount—because then I have to pay the agency their agency fees for that booking as well."
Though the booking was technically validated by being posted on the site, Saint maintains, "I just find it disturbing. I have nothing against girls that choose to do stuff on the side, it's just not for me. Many of my friends do it. I just choose not to. But someone put me in a situation where that decision was made for me, and I didn't know about it. It's just not right."
Saint said she believes the scene was posted on St. Clair's site around the time of this year's AVN Adult Entertainment Expo (which took place January 16-19), but doesn't know how long it remained up, nor how The Dirty discovered it. She did confirm, however, that after poking around for more information on Nanula, she soon learned, "He's just really into hiring girls."
She went on to speculate, "He obviously had to feel like he was a little untouchable to be ballsy enough to set someone up like that. Because I mean, I've been asked plenty of times—if you ask any of the people that run escorting agencies, [they will say,] 'Yeah, we've been trying to get Samantha.' Why would I say yes to this guy? And why for only $1,200? That makes no sense."
One other swirling rumor Saint laid to rest pertaining to the scandal was that fellow starlet Bonnie Rotten's husband (and sometimes performer) Jack Spade was involved in setting up the shoot. "I don't know anything about him or why he would have been brought into it," Saint said.
In conclusion, Saint asserted, "Samantha Saint is not a hooker. I don't judge girls that do it, but I'm not one of them. I would have never put myself in the situation if I knew what it truly was."
Trinity St. Clair has thus far refrained from comment on the matter.