We're very pleased to report that our friend, veteran filmmaker and producer, Axel Braun, has been named the visionary keynote speaker for the 2015 XBIZ 360 Adult Film Conference in January.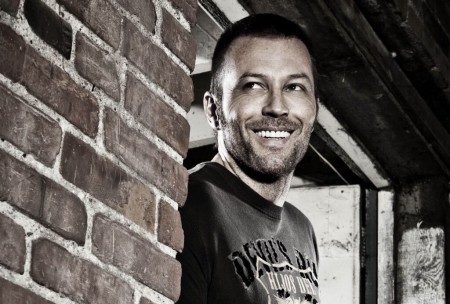 Braun, the only three-time winner of the XBIZ Director of the Year – Body of Work award, will deliver his address on Jan. 14 at The Andaz Hotel on Sunset Blvd.
This January will be special in more ways than one for Braun, as the native of Italy also will be celebrating a career milestone.
"Being asked to deliver the keynote is a tremendous honor, and I am absolutely thrilled that XBIZ offered me this opportunity," Braun said. "January 2015 will mark my 25th year in the adult industry, and while I've been fortunate enough to accomplish far more than I had set out to, being recognized with such a prestigious invitation is one of the crowning achievements of my career."
Braun, who produces movies through his namesake studio distributed by Wicked Pictures, is among the most accomplished porn directors of his generation. Axel Braun Productions currently specializes in some of the top-selling porn parodies in adult entertainment, including more than two dozen spoofs such as the XBIZ Award-winning "Superman vs. Spider-Man XXX" and "This Ain't Avatar XXX." He also won multiple XBIZ Awards for the epic sendup "Star Wars XXX," the 2013 XBIZ Parody Release of the Year – Comedy that was released through Vivid Entertainment.
Braun since has forged ahead with a different imprint for his new distribution home at Wicked Pictures. The producer in February created the Wicked Fairy Tales line, just a few months after he agreed to an exclusive distribution deal with Wicked. So far he has released parodies of the classic fairy tales "Snow White, "Sleeping Beauty" and "Cinderella." In between, he unveiled a parody of the hit TV series "24."
In addition to running his own studio and juggling writing, producing and directing, Braun also owns his own post-production house, Level 5 Post. That company specializes in editing, authoring, graphics and special effects for both adult and mainstream clients.
A member of MENSA who is fluent in five languages, Braun also holds a Ph.D. in Psychology. He plans to cover a wide range of topics during his speech.
XBIZ 360 Keynote Speaker
"I will be addressing my current and future projects, piracy, performers' safety and education, new platforms, and the state of the industry in general," Braun revealed. "And of course I will talk extensively about myself in the most spectacularly, self-glorifying way, hoping that everybody in attendance will blindly believe the hype."
Kidding aside, Braun's path to porn's upper echelon has taken him all over the world, from Europe to Los Angeles. The son of adult film pioneer Lasse Braun grew up in Italy, where he learned about filmmaking while working with his father as an assistant director, writer, producer, cameraman and editor.
Braun in the late '80s relocated to L.A., where he continued to study filmmaking and gradually began making a name for himself in porn after producing and directing a couple titles for VCA in 1997-98.
By mid-2002, the ambitious shooter had signed an exclusive directing contract with Elegant Angel, where he also held the position of general manager for a stint in 2003. In the years following, he went on to direct dozens of titles across several porn genres for Elegant Angel, New Sensations, Digital Sin and Hustler Video.
"Axel may more recently be known for directing entertaining porn parodies, but he actually is a real Renaissance man who surely could quit the biz today and be successful in an entirely different field," said Dan Miller, executive managing editor of XBIZ. "It will be our distinct pleasure to have him deliver our keynote address in January."
Braun also is believed to be the only director in adult that requires a full-panel of STD/HIV tests no older than seven days to be cast in any of his projects, a stipulation he implemented in May.
"A one-of-a-kind creative visionary, Axel stands alone in so many ways," said Alec Helmy, publisher and founder of XBIZ. "We feel very privileged to offer attendees the opportunity to see the future of porn through such an extraordinary mind."
XBIZ 360 will once again be closed to the public and occupy the entire property of the Andaz Hotel Jan. 14-16 for seven separate events specifically tailored to explore the future of Digital Media, Movie Production, Pleasure Products and Retail sectors of the adult industry.
For a limited time, XBIZ 360 attendees qualify for an exclusive group rate of only $199 per night at the Andaz Hotel.
For more information, visit XBIZ360.com.