Four-consecutive-time AVN Director of the Year Axel Braun has presented the official SFW trailer for his third Wicked Fairy Tales movie, Cinderella XXX: An Axel Braun Parody, starring Wicked contract performer Samantha Saint in the titular role.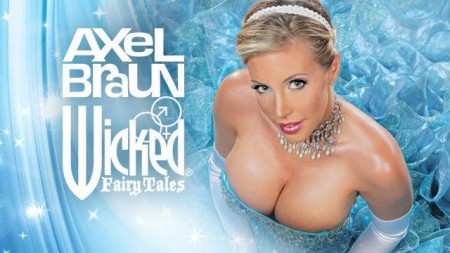 The iconic roles of Evil Stepmother and Fairy Godmother are filled by two award-winning MILF performers: Veronica Avluv as the wicked stepmonster and Julia Ann as the magical benefactress. Penny Pax and Carter Cruise play naughty stepsisters Drizella and Anastasia.
"Veronica Avluv as Lady Tremaine brought a palpable, evil sexual charge to the movie, and Julia Ann is by far the hottest Fairy Godmother ever portrayed on screen," said Braun. "But I can honestly say the performance Samantha Saint delivered as Cinderella is quite possibly her finest acting to date."
For her part, Saint couldn't be happier to be the one donning the infamous glass slipper. "This was my first time working for Axel, and it was a very intense and rewarding experience. He definitely knows what he wants, and his attention to detail is unsurpassed. The clips I saw so far are amazing, and I can't wait to see the final product!"
Despite the success of the previous two films in the Wicked Fairy Tales imprint, Snow White XXX and Sleeping Beauty XXX, Braun didn't just stick with what seems to be a winning formula. Though he maintained the classic settings and lavish costumes, the director said he wanted to mix things up a bit.
"It's still a movie with dark undertones, but this time it's weaved with plenty of comic relief, especially thanks to the scene-stealing duo of Penny and Carter, which is in a way a departure from the highly dramatic feel of the first two films," Braun said. "I just felt that the source material was more suited for a comedic approach, and despite the long hours, the mood on set was so relaxed and positive that it translated in the way we shot."
The safe-for-work trailer can be viewed on YouTube here.
The DVD release of Cinderella XXX: An Axel Braun Parody will hit stores on September 25.