Crowdfunding breast implants is not a new idea. The site MyFreeImpants.com, referred to in this story, has been online since 2005.
A woman is living out her dream of being a glamor model after strangers from around the world footed the bill for her $4,168 boob job.
Amy Kingsborough, 23, from Orlando, Florida, put out a plea via MyFreeImplants.com – a crowdfunding site created for women looking for financial aid towards their breast implants.

And just 13 months and 79 donations later the blonde finally got the lift in life she needed – 34D breasts and the confidence to pursue her dream of becoming a model.
When she was younger Miss Kingsborough claims her 34A cleavage left her with low self-esteem and the target of cruel jibes from other girls she went to school with.
She wore push-up padded bras to make her breasts look bigger and as she grew up idolizing women from Victoria's Secret models such as Candice Swanepoel to Marilyn Monroe.
When she hit adulthood Miss Kingsborough tried to get work as a glamor model but said she couldn't get any because of her 'flat chest.'
'Deep down I was pretty self-conscious of putting my small boobs out there like that,' she said.
In a bid to land her dream job she looked at getting surgery. However, she realized that her minimum wage job as a cake decorator wasn't enough to cover costs.
It was then that she stumbled across MyFreeImplants.com and decided to sign up in the hope people would be generous enough to help her transform her figure.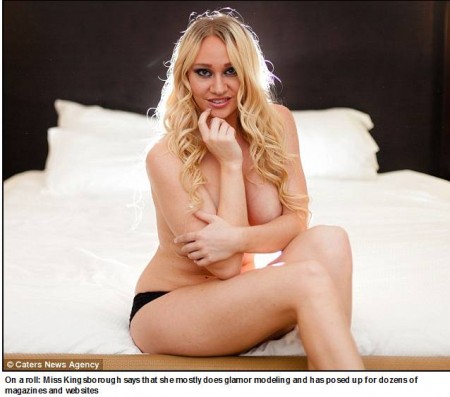 'I needed to change my life for the better – I couldn't afford the surgery myself,' the pretty blonde recalled.
On the site, girls looking for donations share stories and photographs of themselves so users can decide who they would like to help.
They are under no obligation to show post-surgery shots and members are not allowed to meet – they can share saucy photos, talk to each other, promote themselves in blogs but must not break the site rules regarding nudity.
After signing up Miss Kingsborough had a consultation with a surgeon and decided to take her boobs from an A to a D cup. She set her fundraising goal at $4,168.

Her biggest donation was just over $200 and although it only took her just over a year to reach her goal she admits there were times where she wanted to give up.
'It's kind of like Facebook and a job in one because it takes a lot of time and patience.'
When she started to get closer to her target, she said she started wondering if she should be going even bigger.

'Once I got close to the target and it began feeling real I was very excited and the only second thoughts I had was about the size I was getting – I was scared they weren't big enough.'
But in the end she settled on a 34D.
Now she never looks back and insists she couldn't be happier with her new life and dream job.
'My boobs have given me way more self-confidence, I'm more outgoing and overall I'm a happier person – I feel like I was always supposed to have bigger breasts everything before is fuzzy.

'The combination of larger breasts and confidence really helped me when looking for work.

'If you don't look confident in your photos then people won't hire you. With the enlargements, I became more confident with my body which landed me more jobs.

'But the appearance helped because now I'm more curvy.'
Miss Kingsborough says that she mostly does glamor modeling and has posed up for dozens of magazines and websites. Sometimes she also hired to attend events and expositions.

The pay varies per job but she says on average she's earning about $100 an hour.
I set the sky as the limit so I just want to continue to be the best I can be and keep my eye on the prize,' she added.
Miss Kingsborough isn't afraid to tell others how she got her surgery but says other girls should only do it for themselves and not for any other purpose.

She said: 'Girls should do what makes them happy – I didn't get mine for anyone else and it was the happiest decision I made.
'They just need to do the research to find a good doctor to take care of you.

'The site is amazing – it's not easy to reach your goal, but it's well worth it. You have to invest time in it but you have to do that with anything if you want results.

'If you don't have the money like I didn't it's the best option out there. I found guys who cared about me and wanted to donate to me because they believed in me.

'Everyone is so supportive on the site. If you stick your mind to something you can do it.'
Co-founder of  MyFreeImplants.com Jay Moore said: 'It's very exciting to see successes like Amy – the site is a great service but requires significant effort to market your profile.
'She spent 13 months consistently on the website determined to reach her goal. Only the hardest working women succeed and fortunately Amy was one of them.

'Girls like her are the reason we started the site. Her breast augmentation has significantly boosted her career as a model opening many doors and improving her confidence.

'She is now a full-time model and has been published multiple times. She could never have afforded the surgery on her own and in her case it has ended up being life changing.

'In our first full year we only had a dozen success stories. Seven years later we have hundreds of women reaching their goals each year with over 1,200 in total.

'We have 3,500 active women working towards their surgery goal and since we opened for business members have raised over $11million and counting for breast augmentations.'