Maybe they should charge by the hour…
To encourage couples with fertility issues to get busy, a hospital in China's Hubei province has opened up gauze-draped, red-lit sex rooms that go for 880 yuan ($140 USD) a night, HugChina reports. Given that the average monthly salary in China is 4,672 yuan ($750 USD), that's a hefty amount to pay to get in the mood at a place not normally associated with romance.
But at Songziniao Hospital in the the city of Wuhan, these so-called "sex wards" go all out. Furnished with a cushy sofa, round bed and erotic art, the chambers offer porn, sex toys and even instructional tapes and books, the Daily Mail writes. And for those who want to play doctor, physician and nurse outfits are available. Stewardess your thing? There's "air hostess" garb, too.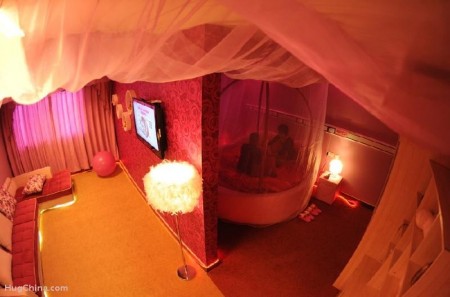 Songziniao Hospital said it wanted to "encourage pregnancy by inspiring sexual passion in the patients," according to a Daily Mail translation. As couples get down to business, fertility experts are also available to boost the chances of conception.
"Nowadays due to the deterioration of China's ecological environment, people feel great pressure for survival," hospital President Wang Shengdong told HugChina. "Some Chinese do not understand getting pregnant is also a technical job."
Perhaps more than a bit of schooling might be in order for some. According to the Hong Kong paper The Standard, Huazhong Normal University sex professor Peng Xiaohui said that he once treated a couple that couldn't conceive after three years because the husband confused his wife's belly button with her genitals.