Dakota Skye's Mom Was a Stripper: 'It Kind of Runs in the Family'
VENICE, CA – Dakota Skye is clearly one of the hottest young stars in the adult business and fans can get to know her a little better now that she's done her rite of passage interview with Mens Mag Daily.
The hot new starlet reveals a family secret and details how she made the transition from webcamming to performing in Porn Valley.
"My mother was a stripper so I guess it kind of runs in the family," she tells Mens Mag Daily, revealing for the first time at how naturally she came about both her beauty and her comfort with her body.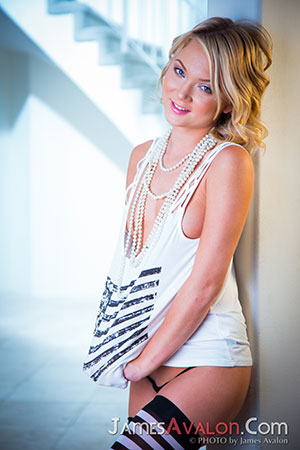 She says she got started webcamming as soon as she turned 18, but had some surprising problems with the format.
"It was good, but it was way too personal for me," she said. "The guys on there wanted a personal connection instead of a sexual one and I just wasn't about it. With porn you don't have to deal with that."
When writer Jon DaBove asks why she has become so popular so quickly, Dakota shows that she clearly knows the keys to her success.
"I look young and I play that innocent girl role really well. Also I'm really good at what I do, I think," she says.
This week Dakota stars in A Mother Daughter Thing (Digital Sin), appearing on the cover and inside with Julia Ann. DS describes the movie like this: A woman supports her spoiled stepdaughter's lavish lifestyle in the hopes of keeping their lesbian affair a secret. Angry about her father remarrying, a young woman sets out to enact revenge on her stepmother, but soon finds herself swept up in a web.
"I don't want to give away too much, but basically it was my stepmother and I settling some things and finally having sex," Dakota says of the scene. "Every time I work for Jacky, Digital Sin or New Sensations, I feel a 100 percent comfortable on set and its almost like a family. I felt really honored to work with Julia Ann who is a well-established star."
Check out the trailer for A Mother Daughter Thing at www.newsensations.com/tour_ns/pages.php?id=trailers.
Read her Mens Mag Daily interview at http://mensmagdaily.com/dakotaskye/.
On Aug. 21 Digital Sin will release of Meet Dakota Skye, which Paul Woodcrest directed. For more details on Meet Dakota and to download the trailer go to www.digitalsindvd.com/distro/catalog.php?movie=2449.
Dakota's website is up and running and so is her store. Fans looking for posters, prints, DVDs, panties and signed items can head over to www.store.dakotaskye.com for a great selection of sexy Dakota items.
Write-in Dakota for Best New Starlet in the 2014 NightMoves Awards at http://nightmovesonline.com/voting/index.php?sid=82189&lang=en. She also stars in Our Father (Digital Sin), which is nominated for Best All Sex Release.
Book Dakota through www.spieglergirls.com/html/dakota.html.
Be the first to know everything about Dakota by following her on Twitter (@realdakotaskye).
Her official site is http://dakotaskye.com.
For PR opportunities contact Rising Star PR. For everything Dakota go to http://risingstarpr.com/news/?page_id=7167.