Solo Cover of 'Pure,' New DVD From Airerose
VENICE, CA – Addiction isn't necessarily a bad thing, not when you can get your fix—and Dakota Skye fans are getting as much as they can handle from the hot new starlet.
She has a new solo cover in stores this week as she sexies up the cover of Pure from Airerose Entertainment. She is also on the cover of The TEEN-aholics 2 from Joey Silvera/Evil Angel.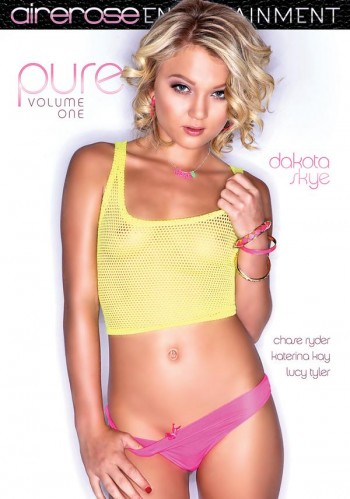 This comes on the heels of two big-time covers, Digital Sin's Meet Dakota Skye and My Brother's Point of View.
"It's always an honor to get the box cover, especially when it's coming from companies like Digital Sin, Airerose and Evil Angel," Dakota said. "I'm still awed every time I see myself on the cover!"
Dakota has several big releases coming out this month, including A Family Attraction (Digital Sin), Sorority Car Wash (Airerose Entertainment) and Anal Young 'uns (LéWood/Evil Angel).
Download the trailer for My Brother's Point of View at www.newsensations.com/tour_ns/trailers/. Get more information and watch the trailer for Meet Dakota Skye at www.digitalsindvd.com/distro/catalog.php?movie=2449.
Dakota's website is up and running and so is her store. Fans looking for posters, prints, DVDs, panties and signed items can head over to store.dakotaskye.com for a great selection of sexy Dakota items.
Write-in Dakota for Best New Starlet in the 2014 NightMoves Awards at http://nightmovesonline.com/voting/index.php?sid=82189&lang=en. She also stars in Our Father (Digital Sin), which is nominated for Best All Sex Release.
Check her out on FreeOnes where you can give her the 5-star rating she deserves and leave a comment. Go to http://freeones.com/html/d_links/Dakota_Skye/. Vote for her for Miss Freeones (http://miss.freeones.com/miss-freeones-2014/) and Best Newcomer (http://miss.freeones.com/best-newcomer/).
Book Dakota through www.spieglergirls.com/html/dakota.html. Be the first to know everything about Dakota by following her on Twitter (@realdakotaskye). Her official site is http://dakotaskye.com. For PR opportunities contact Rising Star PR. For everything Dakota go to http://risingstarpr.com/news/?page_id=7167.