Danny being outed as a POS has been along time coming.  This morning we ran the Brad Knight domestic assault story which lead to Danny Mountain making this ill advised tweet:

That prompted a Whatsapp: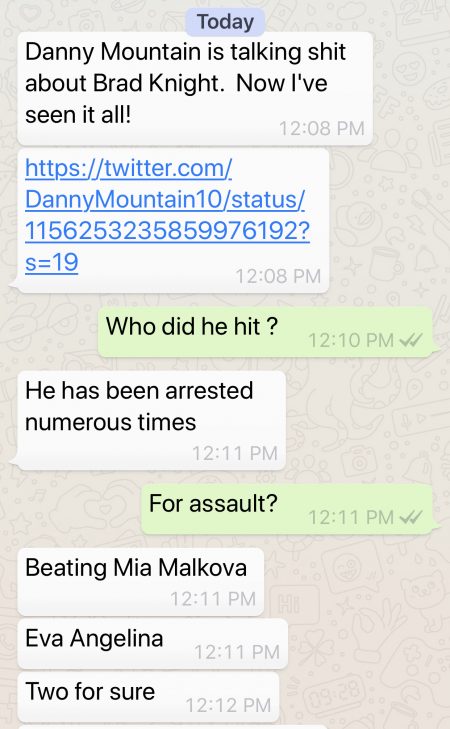 Not sure how much of that is true, but according to a 2009 interview with Eva Angelina, Eva claims Danny got drunk and assaulted her
Most people don't know this yet, but you've had a tough time lately. You and our husband Danny Mountain have split up. When did this happen?
Early hours of March 2nd we had an incident, and that incident brought me to making that decision.
Can you tell us WHY it happened?
Danny was extremely inebriated, became violent towards me, and I didn't want me nor my daughter in that kind of environment. I couldn't even risk a slight chance of it happening again.
I know it is a matter of public record. What are his charges?
His charge has been migrated to a misdemeanor of domestic battery/violence.
Have you gotten a restraining order?
Yes, I have an EPO and a restraining order. I have pictures of the bruises I got, and the police saw visible marks on my neck.
What was that about real men Danny?
Danny's behavior is only a secret to the people who HAVEN'T been around long.  He's been accused by multiple partners of violence, I'm talking Jesse Jones numbers, he conspired to rip off his then wife Mia Malkova, allegedly beat her up at AVN a few years back,  and attempted to steal over 50k from one of the Starr sisters.  More on these allegations later..
Danny, Clover, Jesse Jones and Brad Knight….Real men