AlterD8, a fantasy dating website developed in Vancouver, is offering users the chance to build alter egos before enjoying virtual dates with other site members.
"Being anonymous allows you to be uninhibited when opening up to new people," AlterD8's website explains. "Share fantasies, dreams, and desires without worrying about your identity."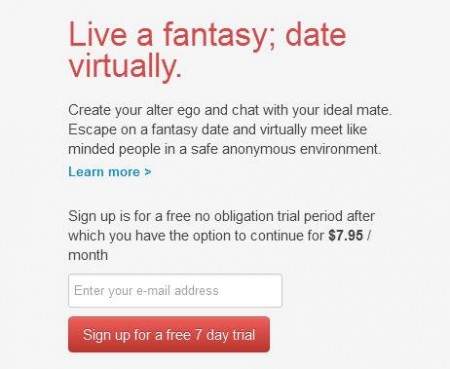 After creating a new identity, members fill out compatibility forms and are matched with other fantasy figures to go on "virtual dates". Dates can range from friendly chats to intimate conversations designed, as the website suggests, to "rescue you from reality".
AlterD8 also hosts a blog where members can enthuse about their great pretend encounters or read helpful advice from website host "Dr. Delilah" about getting started in cybersex: "Try talking about movies and books that you find sexy. "Fifty Shades of Grey" anyone?"
For $7.95 per month, the site presents itself as the panacea for the sexually repressed, quoting those hampered by everything from religion to shyness to marriage as they realize a more fulfilled life.
"I've been married for so long, I needed to feel single and free again!" one satisfied member calling themselves "married_single" reports. "My marriage would have been over if I'd tried flirting and hitting on people in the real world."
Source