A nude maid service promises to provide clients with a show and a spotless house, but local authorities are keeping an eye on the small business that's caused quite a stir in a conservative Texas town.
Melissa Borrett, 26, began Fantasy Maid Service of Lubbock as a way to make extra money. She charges customers $100 per hour to clean their homes, and at their request, she can do the dusting in lingerie or in the buff, ABC's "Good Morning America" reports.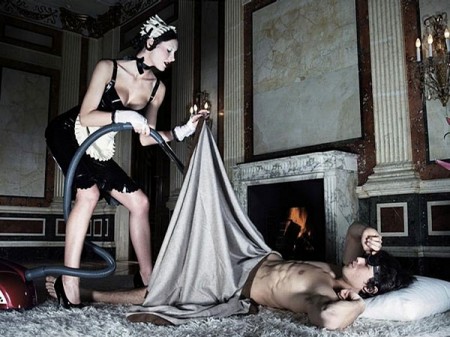 The young entrepreneur started the service in February. Now, just a few months later, she has three other women working for her.
But while business is booming, Borrett's controversial start-up has caught the attention of the Lubbock Police Department.
Noting that the "sexually oriented business" doesn't have a permit to operate, police Sgt. Jonathan Stewart said Borrett could face at a fine of $2,000, and additional charges for every day she continues to work without a permit, KCBD reports.
"Just the fact employees are topless or semi nude in this case — it's just not allowed," Stewart told KCBD.
Company policy prohibits employees and customers from engaging in any physical or sexual contact.
"If a maid accepts tips for physical contact, she will be terminated immediately and the customer will not be able to schedule service with Lubbock Fantasy Maid Service again," according to the company's website.
Additionally, the company will not work topless or nude in the presence of persons under 18.
According to the Associated Press, the permit Borrett needs to obtain costs $650 per year and requires an additional $5,000 surety bond or letter of credit.
Responding to the threats from police, Borrett has said she will take legal action if the city attempts to shut down the business.
Source: Huffington Post