A former Bengals cheerleader accused of sex abuse is firing back at her at her critics and the rumors about her personal life despite a request by prosecutors for a gag order in the case.
Sarah Jones, one-time captain of the Cincinnati Ben-Gals cheerleading squad and a former high school teacher in Kenton County, Ky., is accused of sexually abusing a student and unlawful use of electronic means to induce a minor to engage in sexual activities.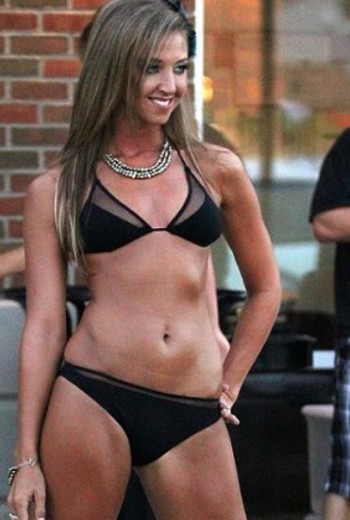 "I read on a blog that I was the female [Jerry] Sandusky. To read those things and not be able to comment, not be able to stick up for myself is not fair," said Sarah Jones in an exclusive interview with ABC News.
"People don't know the real me. There's blogs and postings out there that I have slept with numerous people. I married my high school sweetheart," said Jones. "I just asked the general public to maybe hold their judgment a little bit longer until the truth comes out."
Prosecutors asked a judge for a gag order on Monday to stop Jones from talking after she went on her lawyer's radio show earlier this month to comment on the charges against her. Jones' lawyer, Eric Deters, filed a motion to dismiss all charges because of a lack of evidence.
"They have no evidence that sexual relations of any type took place in any of the 50 United States of America," Deters told ABC News station WCPO.
The judge said she would review the motions and make a decision in the coming days.
"We won't be sending out motions, we won't be going on radio shows. You will be hearing our arguments about the evidence in court," said Leland Hulbert, spokesman for the Jefferson County Commonwealth's Attorney's Office, which is prosecuting the case.
Last November, the then 26-year-old teacher at Dixie Heights High School, was accused of having sex with a 17-year-old student. Jones' mother, Cheryl Jones – a middle school principal in the same school district — is accused of tampering with evidence in connection with her daughter's case. Sarah Jones resigned from her position in November 2011.
Both mother and daughter pleaded not guilty in April at their arraignment. Both Sarah and Cheryl Jones were joined by dozens of supporters including the family of the alleged victim. The victim's name has not been released due to his age.
"The hardest thing has been having not only me go through it, but to have my mom go through it with me," said Sarah Jones. "It's almost kind of a guilty feeling that she is even involved in this because what has happened to her is not fair. My goal is for her charges to be dismissed."
Jones' lawyer is also demanding the prosecution be sanctioned for saying in court that Jones allegedly sent a text to the victim saying "deny everything." The prosecution described other texts with the victim as "steamy."
"I think people are taking this whole student-teacher thing… Yes, he was a student but he was not my student," said Jones. "He was a family friend and I am very close to his parents. Had it not been for their support it would be very difficult to get through this without them."
Video
Also read: Sarah Jones' Ex Weighs In On Sex Scandal