Paradise Marketing, America's top wholesaler of condoms, lubricants and sexual wellness products, is bracing for the 2016 presidential election with its Political Condom Collection for the cynic in all of us.  Not only do you have 12 months to decide on which candidate you want to become the President of the United States, you can show your support and practice safer sex, at the same time!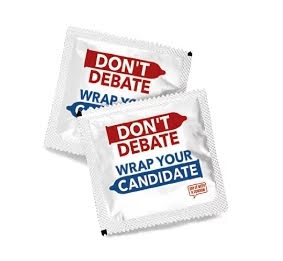 The 'Political Condoms' are timely, funny and remind us that we need to get our election protection on! The condoms exceed the industry standard for unrivaled comfort and safety, in these uncertain political times. "Don't Debate, Wrap Your Candidate", "Great for any position" and more will help make your vote count!
The standard size lubricated condoms come in four red, white and blue political designs with slogans like 'Either way, you're screwed' and 'Thin as a politician's promise' while sheathing users in premium latex for superior fit, strength and elasticity for greater peace of mind!  Peace of mind is something every American can use during this political campaign!
The Paradise Marketing Political condom Collection is available now on Paradise's website in a 40-piece jar, master case of 24 assorted jars or a bulk case of 1,000 non-assorted pieces. The standard size lubricated condoms are exceptionally strong with a straight shaft design made from premium latex that enhances sensitivity and pleasure from every angle.
Support America now!
For immediate purchase, go to
https://www.condomania.com/catalog/product/view/id/572/s/political-condom-collection/category/9/.
.