This is what will happen in porn if the OSHA/AHF construction of porn workers as employees becomes the standard. If someone with HIV or whose status is not known, wants to work with a condom, a producer cant let him go. They'd have to let go any performer who didn't want to work with them because HIV+ people are a protected class
—The Ivy, one of Mid-City West's most prime celebrity-spotting locales, has been sued for firing a busser, not due to snapping a photo of a celeb or stealing a bite of one of the eatery's $22 hamburgers, but allegedly for being HIV-positive.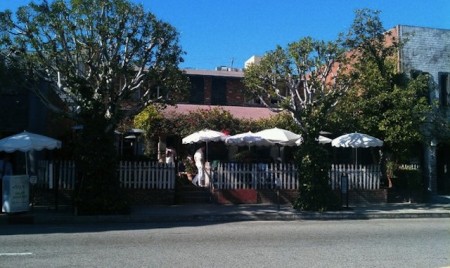 LA Weekly reports the suit was announced today by the Mexican American Legal Defense and Education Fund (MALDEF), alleging that the worker — Reymudo Martinez — "was terminated in violation of the state Fair Employment and Housing Act, which prohibits letting someone go because of a medical condition."
Martinez worked at The Ivy for five months before being diagnosed with HIV in December 2010. The suit alleges side effects from medication made it trying for Martinez to work his shift, so his doctor requested a shift change. Following the scheduling inquiry, Martinez was fired.
Stating that the company "discriminated against Martinez on the basis of disability," the complaint claims "The Ivy terminated Martinez alleging he was unable to professionally carry out his duties." The plaintiff, however, was able to perform his essential job duties, according to the report, aside from taking a few days off to recuperate from his medical treatment. Five causes of action against the Robertson Boulevard paparazzi magnet are listed in the suit: Employment Discrimination (Disability), Impermissible Non-Job Related Inquiry, Failure to Accommodate Disability, Failure to Engage in the Interactive Process and Termination in Violation of Public Policy.
Victor Viramontes, MALDEF National Senior Counsel, told Radar Online, "The Ivy cannot target employees with HIV for discrimination. Individuals in these vulnerable situations are in particular need of their jobs, and any employer choosing to discriminate faces the possibility of a civil suit"
The suit alleges "The Ivy asked Martinez to identify the nature of his disability" following the schedule change request.
The Weekly contacted The Ivy's owner, Richard Irving, who said the restaurant was unaware of Martinez's health woes when he was terminated. He was fired for "being a bad worker," according to the publication, which posted the following statement from Irving:
We had a lot of complaints from his fellow workers that he wasn't pulling his weight. We don't enjoy letting people go, and we try to give them the benefit of the doubt. We didn't act immediately. We tried to get him trained and tried to help him and gave him time. But he never caught on, and he was never good.
The suit further states," Plaintiff has suffered damages including economic losses and emotional distress, in an amount to be determined at trial." A trial by jury has been demanded.
http://laist.com/2012/03/29/hiv_positive_busboy_sues_the_ivy_for_discrimination.php