I'm a broken, disease-spreading woman who hates her job? That's news to me…
I've been working in Nevada's legal brothels for almost a year and a half now. In this time I've learned a lot about sexuality, psychology and relationships. My job is a mix of customer service and fantasy fulfillment, and I love it. It suits my needs and allows me financial stability I never had access to before. However, what I've noticed since starting this career is that there is a lot that the general public doesn't seem to get about sex work. Here are some of the biggest misconceptions:
1. 'Sex work is lazy – and easy'
I can describe my job many ways, but never as easy. I work a 12-14 hour shift each day, and during this time I'm juggling my four social media accounts, two professional email addresses, posting on multiple industry message boards, scheduling client appointments, arranging radio interviews, writing essays online, and cleaning meticulously.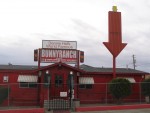 I'm also meeting countless visitors of the brothel, taking them on tours, gauging their interest, pulling teeth to figure out exactly what they desire, then negotiating prices. That's before the sex even starts, in which I'm generally doing most of the physical workload, putting emotional labor to make my clients feel at ease, listening to their deepest confessions, and trying to make sure they get their money's worth.
Sex work is a physically intimate therapy session for most of our clients. Many workers who work independently also have to schedule hotel rooms, vet their clients to make sure they aren't dangerous, run their own websites and handle marketing.