LOS ANGELES (June 25, 2014) – Adult superstar James Deen will hold a Reddit "I Am A: Ask Me Anything" Q&A session online today, June 25, at 9 pm EST. The multiple Male Performer of the Year recipient will answer questions from the public regarding the adult entertainment industry and his career, including current projects like Deen's "7 Sins" film series, as well as a limited time promotion for his official membership and merchandise sites.
"I'm looking forward to hosting a Reddit IAmA," says Deen, who posted his photo evidence for Reddit on his personal Twitter page. "I'm always down to talk about my work in the adult film industry along with any other projects I am working on… Or anything else people want to know."
To thank fans who join him on Reddit, James Deen is providing $15 off of shirts, toys, movies, and more at JamesDeenStore.com when a three-month subscription to JamesDeen.com is purchased."
Deen explains, "My site gives you access to my '7 Sins' series, which is pretty awesome… At least I think so. I put a lot of effort into it, and I hope you all like it. The whole thing was an excuse to shoot 'Pride," where I have sex with a bunch of ladies who are wearing masks of my face! It's weird… And awesome… And weird. Join the AMA, and I will tell you all about it!"
The "I Am A: Ask Me Anything" with James Deen will occur for an hour from 9 pm to 10 pm EST on Wednesday, June 25. A link to his AMA will be available via his Twitter account, @JamesDeen, at 8:30 pm EST. Those wishing to participate may also find James Deen's AMA by clicking here and searching the menu.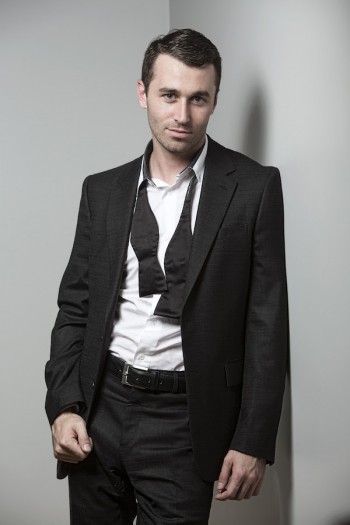 Dubbed the "permanent crush of all straight ladydom" by popular female-oriented site Jezebel.com, James Deen has been an active adult performer since 2004 and has appeared in more than 4000 adult productions. Deen's starring role in the Bret Easton Ellis feature, 'The Canyons,' earned him a Mainstream Adult Media Favorite award at the 2013 XRCO Awards and a Crossover Star of the Year award at the 2014 XBIZ Awards. Deen is also producing the mainstream steampunk/western-themed film project, 'Cowboys & Engines,' which is currently in post-production.
For more information, visit http://JamesDeen.com, http://JamesDeenBlog.com, and http://JamesDeenStore.com, or follow him on Twitter at http://twitter.com/JamesDeen.
James Deen started performing in adult films at the age of 18. Originally, he was warned his skinny body type and boyish looks were not fit for porn, but Deen quickly silenced his critics. He is the youngest male to ever receive Performer of the Year honors at the AVN Awards, along with accomplishing this feat across the board at the XBIZ, XRCO, and every other adult awards show. Established as the top performer in the adult industry with over 4000 credits to his name, Deen has grown from the porn boy-next-door to a household name around the world. Deen has been noted as one of the top 100 Jews in Heeb magazine (2009) and featured on CNBC, ABC's "Nightline," Good Magazine, The Good Men Project, GQ Magazine, Rolling Stone, E! Entertainment, Esquire, Playboy, TMZ, and many other media outlets. He has expanded his career to the "mainstream" by starring in "The Canyons," opposite Lindsay Lohan. He is also producing Hollywood projects as well, including "Cowboys & Engines," which features Malcolm McDowell. As his career continues to skyrocket, James Deen appreciates every ounce of the successes he has. When asked about this, he exclaimed, "Seriously – I am the luckiest boy alive." For more information, visit www.JamesDeenBlog.com, www.JamesDeen.com, www.JamesDeenStore.com, or www.Twitter.com/JamesDeen.