Lesbian Fetish Movie Next on Director's Schedule
VENICE, CA – Dana Vespoli may get most of her attention these days from directing, but she's still popular as a performer, too.
She stars in several movies in these first days of August, including new movies from James Deen and Rocco Siffredi.
"Yay for James Deen's Sex Tapes!" Dana said. "That was fun. I'm also super excited for Slutty Girls Love Rocco 7. I had wanted to work with/for Rocco for so long—way before I got into the business."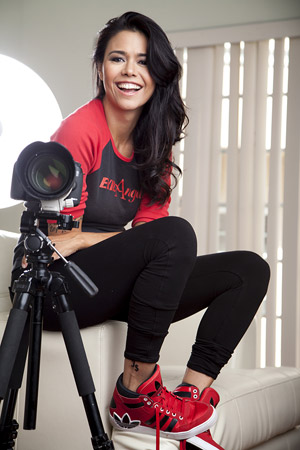 Early August releases starring Dana include Slutty Girls Love Rocco 7 (Rocco Siffredi/Evil Angel); Manhandled 3 (Diabolic); Uh Oh, That's My Cheerio (Hustler); and James Deen's Sex Tapes: Porn Stars (James Deen/Evil Angel). She also directed Lesbian Beauties 12: Interracial (Sweetheart Video), which will releases Aug. 6.
Dana is also preparing to shoot an Evil Angel movie, which will be a lesbian fetish movie, and a black and Asian lesbian movie for Sweetheart.
Dana Vespoli's 2014 NightMoves Awards nominations
Best Director (Feature)
Best Director (Non Feature)
Best All Girl Release: director, Lexi Belle Loves Girls (Sweetheart Video)
Best Feature Production: director, Hollywood Babylon (Dana Vespoli/Evil Angel)
Best Parody (Comedy): star, This Ain't Homeland XXX (Hustler Video)
Vote for Dana at http://nightmovesonline.com/voting/index.php?sid=82189&lang=en.
Check out her recent interview on Porn Director Podcast at www.porndirectorpodcast.com and @porndirpod.
The trailer for Fluid Vol. 2 can be seen at www.evilangelvideo.com/title/1000010276.
Follow Dana Vespoli on Twitter @danavespoli. Visit her Evil Angel page at http://evilangel-video.com/dana_vespoli/. For everything Dana go to http://risingstarpr.com/news/?page_id=5205.