LOS ANGELES, October 6, 2014 — A popular pornographer with mainstream credibility and artistic vision brings his conceptual XXX series to a ferocious climax with "James Deen's 7 Sins: WRATH." Each of the previous six installments has presented one of the so-called "seven deadly sins" with shocking sexual imagery; in the final chapter, Deen propels nine natural-bodied vixens through a rough, intense reverse-gang bang. Evil Angel will release the nasty new movie October 20 on DVD and VOD; it can be previewed right now in a trailer at EvilAngelVideo.com.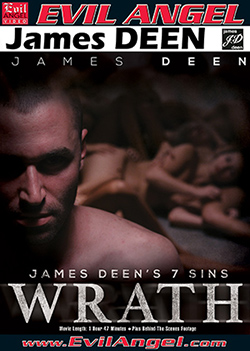 "If you go to JamesDeen.com and watch the '7 Sins' series, you will see that none of them really have a premise or a plot. They are all expressions of each sin through sex, or at least that was the goal," comments Deen. "'Wrath' was the hardest one for me because I don't consider sex an inherently angry act. I tried to go to the root of the project and really just express a sin with sex. The lighting is angry and camera work is angry; the sex is pointless and rough. All pieces of this are intended to express wrath."
"James Deen's 7 Sins: WRATH" is composed of a single, marathon scene: In a stark, empty room, a menacing Deen accosts young, natural-bodied Carmen Caliente, Carmen Callaway, Dani Daniels, Delilah Davis, Janice Griffith, Sadie Santana, Vyxen Steel, Jessica Ryan and Trinity St. Clair. The sluts aggressively compete to be dragged by the hair for rough, manhandling sex. As Deen slaps, spanks, chokes and copulates with each girl, her aggressive, crawling rivals encircle the action like pervs in a porn theater.
"I bent Janice Griffith in half and fucked her throat, and smashed Dani Daniels' head into a lamp and wall while having sex with her," recalls Deen. "That shit was pretty gnarly." Rough fingering, face fucking, tit slapping, pussy pounding, spitting, facial cock slapping, even full nelson fornication make the whores howl. They're into it and shameless, caressing themselves, rimming Deen, gasping and wailing. After almost two hours of dominant mayhem, Deen jacks his jism onto the pile of female flesh assembled at his feet as the wenches out-stretch their thirsty tongues.
The entire "James Deen's 7 Sins" series (available at EvilAngel.com) has been characterized by inventive filmmaking, disturbing images, subversive ideas and blistering sexual performance, so Deen is hard-pressed to name a favorite sinful chapter. "I was trying to decide the other day," he says, but could only conclude that, "I am very proud of each one." No telling whether pride in one's "Sins" is itself a deadly sin…
Download press release materials for "James Deen's 7 Sins: WRATH" here.
Sales Inquiries:
Justin Rich, JRich@EvilAngel.com / (800) 442-6435, ext. 115
Foreign Sales Inquiries:
Alexandra (Alex) Kelley, Alex@EvilAngel.com / 818.787.1414 ext 106
Press Inquiries:
Lissa Baren, Lissa@EvilAngel.com / (818) 787-1414 ext 214
For more information about Evil Angel Wholesale, visit their B2B site EvilDistributor.com
Evil Angel marketing site: EvilAngelVideo.com
Follow Evil Angel on Twitter: @EvilAngelVideo