NEW EVIL ANGEL RELEASE FEATURES CHANEL PRESTON, JULIE CASH, ROSE RED TYRELL, AIDEN STARR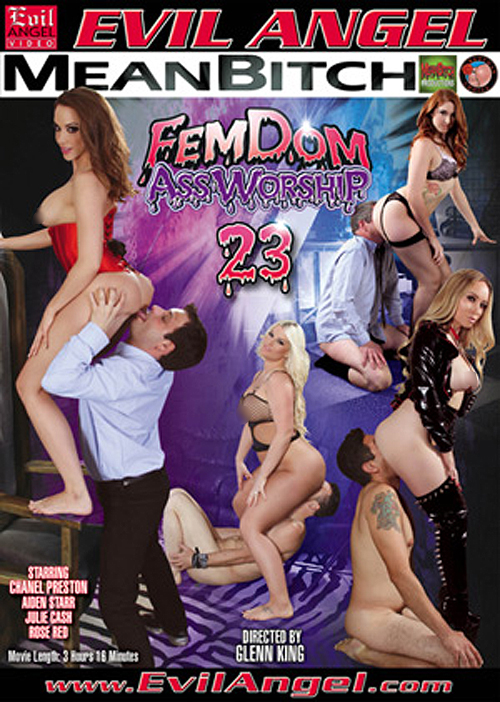 Glenn King's new Evil Angel release, Femdom Ass Worship 23 hit the streets today as the renowned director returns to his roots as the world's leading Producer of Erotic Female Domination and Ass Worship.
"I got my start in the business in 2002 with a website about Ass Worship, and for the next ten years that's the majority of what I produced.", said King, who recently expanded into complementary genres like Cuckold and Femdom Sex. He went on to say, "Although I love breaking new ground, I'm still the guy who can enjoy staring at pictures all day of spread assholes. I'm an ass fanatic! And that's what Femdom Ass Worship 23 is all about. Each scene starts with a girl teasing you with her ass and ordering you to worship it. Then she dominates a slave and makes him lick her asshole. Of course, as always, there is Facesitting and Foot Worship too!".
The four stars of Femdom Ass Worship 23 are Chanel Preston, Julie Cash, Rose Red Tyrell, and Aiden Starr. Cash and Starr are regulars in the Femdom Ass Worship series, while Preston and Tyrell are new. King talked about the cast by saying "Chanel Preston is a superstar of adult entertainment. I can't believe we waited this long to shoot her. She was so great that we shot another scene with her just a few weeks later. And Rose is an amazing newcomer. She's a natural. When you combine the two newcomers with the scenes from the highly experienced Julie Cash and Aiden Starr, it's a great DVD!"
Glenn King currently has 4 lines for Evil Angel: "Femdom Ass Worship", "Mean Cuckold", "Glenn King's ManEaters", and "When Pornstars Attack!".
The trailer for Femdom Ass Worship 23 is available to view at EvilAngelVideo.com.