Glenn King announced today the lineup of guests for the 7PM PDT September  12 edition of "Glenn King's ManEaters Show". The show, available in streaming HD video at www.glennkingshow.com, will feature Asia Zo, Paisley Parker, Brianna Rose, and more.
"These girls are all new to the show…" said Glenn King, "If there's one thing we love on the ManEaters Show, it's newbies. We will turn them over to Aiden Starr for processing and molestation. I'm also very excited about a new segment on the show tonight – our "React to Aggressive People" program (R.A.PE). That's where I will be personally attacking each girl and teaching her useful women's self defense techniques".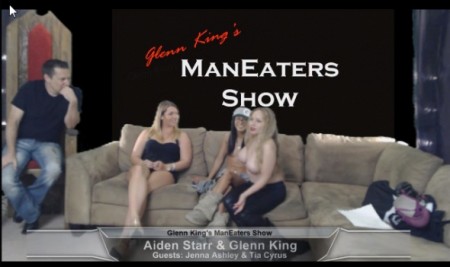 This week's Show will feature the weekly "TwAss of the Week Contest", "Aiden Starr Breaks the Ice," "Women's Self Defense Lessons", "Porn Talent Auditions", "Cam Girl of the Week: Mia Li", and more. Tonight's hosts will be Aiden Starr, Glenn King, and special Show Helper Mena.
To find out more about the show, visit the show website at www.glennkingshow.com . The show will air every Friday night at 7PM PST. Past episodes of the show will be available for viewing at the website.
Glenn King is an AVN-Award winning Adult Film Producer/Director and veteran Radio Host, with stints at PlayBoy RadioSex and Vivid Radio. To inquire about advertising on the show or request interviews, contactglenn@meanbitches.com.