They should have stayed inside the famous hotel they were emerging from, where plenty of bedrooms would have come in handy.
But 'original supermodel' Janice Dickinson and adult movie star James Deen took their public display of affection into the driveway of Hollywood's famous Chateau Marmont last night – with sickly results.
The exhibitionists stood in an area where visitors can be picked up in cars, posing directly by the recognizable address sign as they enjoyed a messy kiss for everyone to see.
The 57-year-old clothes horse appeared to be taking the steamy session rather seriously while the 26-year-old adult film star found the stunt more humoros.
Slightly bending down in her pointy toe and moderately heeled shoes, she craned her neck to wrap her pout around his lips.
Donning a black above-the-knee frock she pinned her body against the entertainer – who dressed casually in blue jeans and a brown jacket to match his shoes.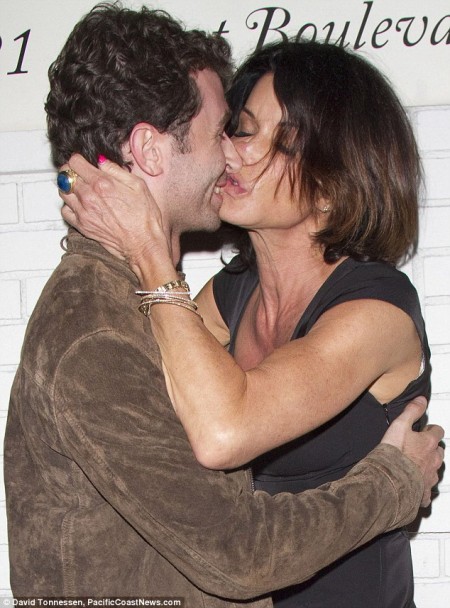 She rubbed her nose against his and he nuzzled his face into her neck, both attention seekers rubbing each other's backs, Deen was caught giggling to himself.
The man whose makes money from cavorting in public walked away from the encounter looking rather flustered yet impressed.
Deen will be starring alongside Lindsay Lohan in forthcoming film The Canyons.