Adult superstar Kelly Madison and her iconic 34FF breasts return to hardcore action in the all-new "Kelly Madison's World Famous Tits: Vol. 13." The DVD ships September 2 from Kelly Madison Media and distributor Juicy Entertainment.
The AVN Hall of Famer and her beautiful all-natural breasts take center stage as she joins her husband, award-winning performer/director Ryan Madison, in sexy scenarios featuring Kelly Madison at her erotic best! Whether at the office, in her bedroom, at the farm, or an exotic resort, Kelly Madison dials up the passion and sexual intensity that has made her a true adult superstar.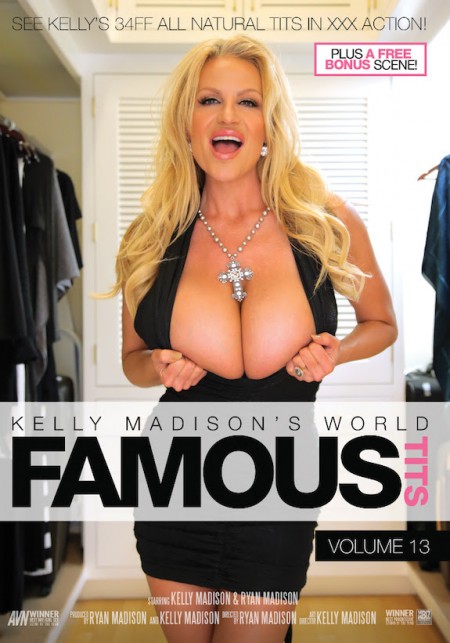 The movie includes two and a half hours of hardcore action, along with a bonus threesome sex scene between Kelly, Ryan, and Candy Manson.
"Kelly has built an empire around her amazing chest and when people see 'Kelly Madison's World Famous Tits: Volume 13' they'll know exactly why. She's an incredible performer and business woman," Ryan Madison said. "This series in particular, has been a big mover for us and a huge favorite of adult fans who love beautiful women with all-natural large breasts – especially Kelly's 34FF's!"
To view the box cover, trailer, and scene list for "Kelly Madison's World Famous Tits: Vol. 13," click here.
In this newest installment of the series, Kelly joins Ryan with her trademark humor and playful attitude, as she turns a little flirty exchange into a full-blown sexual romp that leaves them breathless! Whether wearing a revealing outfit, a sexy bikini, or tiny mini-dress, Kelly uses her gorgeous body to sashay her way into Ryan's pants and bring them both to orgasmic bliss!
"Fans are always telling me what they'd like to see on screen, so I love putting some of these sexy fantasies on camera," Kelly Madison said. "A lot of the success we've had is thanks to the amazing feedback we get and to the great work Ryan does on both sides of the camera. He instinctively knows what fans want and what works – and I get to take him home after! It's a great deal!"
"Kelly Madison's World Famous Tits: Volume 13" includes a bonus threesome sex scene, behind-the-scenes video, behind-the-scenes photo gallery, Polaroids, and more.
Retail customers are invited to inquire about "Kelly Madison's World Famous Tits: Volume 13" at their online or brick-and-mortar retailer of choice. Wholesale customers can contact Danny Gorman at Juicy Entertainment at danny@xxxjuicy.com.
About Kelly Madison Media: 
With a library of titles dating back nearly 15 years, PornFidelity and Kelly Madison Media are synonymous with high quality adult entertainment featuring the biggest names in the industry. Under the leadership of superstar performers Kelly Madison and Ryan Madison, PornFidelity and TeenFidelity have been consistently among fans' favorite studios featuring the real-life sexual adventures of Kelly and husband Ryan as they hook up with hot and horny young women. With her gorgeous face, Double-F breasts and up-for-anything attitude, Kelly and husband Ryan have created an empire that has continued to grow from a monthly release in the early days to today's multiple lines of MILF, Teens, fetish and other themes to a great online presence that is updated every single week with brand new content. PornFidelity.com and related sites include content of over 2,000 episodes with over 1,000 models, showcasing every ethnicity, size, shape, age, breast size, and personality. Each episode has behind the scenes photos and video footage, shot in HD 1080p and all new episodes in 4K, and all downloadable as well as offered in a variety of sizes and formats. The sexy and eclectic sites they produce is a true representation of their oath to "love, honor, cherish and fuck hot girls together for as long as we both shall live." For more information, visit www.KellyMadison.com or http://www.PornfFidelity.com.