Sexy starlets dial up the passion and heat of sex on the road in PornFidelity's "Wanderlust" from Kelly Madison Media. The two-disc DVD is set to ship on Wednesday, August 26 from Juicy Entertainment.
"Wanderlust" illustrates free-spirited young women, as they travel to try to find themselves and explore their sexuality. Shot entirely in 4K Ultra High Definition, the movie features a sexy cast of new starlets who share their passion with wild abandon in four intense scenes of hot sex.
Award-winning filmmaker/performer Ryan Madison, who also directs and co-produces, performs opposite Amarna Miller, Penny Brooks, Keira Nicole, and Ariel Winters. Kelly Madison, Ryan's wife and business partner, co-produces and serves as the movie's art director. A bonus sex scene is included.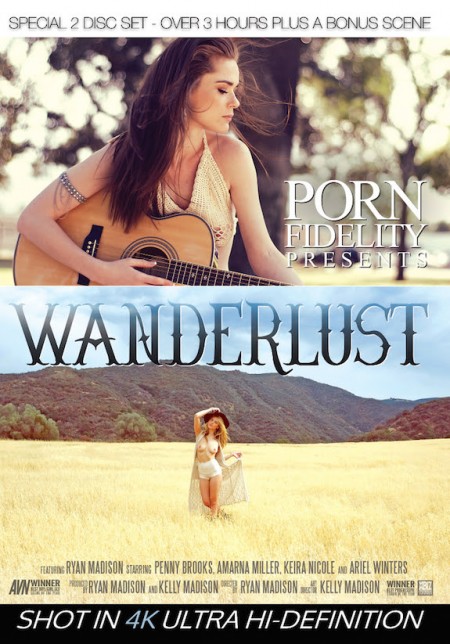 "'Wanderlust' fulfills the fantasy of free-spirited girls on the road and eager to hook up," Kelly Madison said. "Theres a whimsical, dreamlike quality to the film that is magnified through the innocence of our stars, as well as the cinematography and direction of Ryan. Fans will be transported to a place of lust and desire."
"Wanderlust" is now available to order through distributor Juicy Entertainment. It will street on September 2. To view the box cover and trailer for "Wanderlust," click here.
The movie opens with young Amarna, a modern-day flower child who loves nature, but when she meets Ryan during a walk, it's fireworks from the start! The pretty redhead shares her body for a passionate afternoon of orgasmic bliss and a creampie to boot! Youthful Penny follows as she passes through town with her guitar when she encounters Ryan, who is enthralled by her beauty and music. He soon shows her what passion is all about in a hot tryst that brings them both to intense climaxes!
Keira begins scene three, as she shares her love for the countryside with Ryan before the sexual tension overcomes them as they find pleasure in each other's bodies with a creampie climax! Leggy Ariel is next when she flirts with Ryan who shows her the beauty of the coast. But the wild blonde is more interested in sex on the beach, as she and Ryan take their passion to climactic heights!
"Working with Kelly and Ryan was an amazing experience. The environment was friendly and they took good care of me – especially when I fell down trying to avoid stepping on a lizard lol!" said Amarna Miller. "The chemistry with Ryan was fantastic, and I can safely say that this is one of the videos of my career that I've enjoyed the most. The sex was great! I had two pretty big orgasms!"
"It was my first time working for Kelly Madison Productions, and I thought the scene we shot for this movie came out perfect!" exclaimed Keira Nicole. "I was really excited when I saw it because we had a really fun day shooting and exploring places, and of course, the sex!"
To preview Amarna Miller's scene, click here. To preview Penny Brooks' scene, click here. To preview Keira Nicole's scene, and Ariel Winters' scene, click here and here.
PornFidelity's "Wanderlust" two-disc set is available in stores on September 2. It was shot in 4K ultra high definition, and includes photo galleries, behind-the-scenes footage, POV Fluffing Cam, a cast list, filmographies, trailers, and more.
Wholesale customers can contact Danny Gorman at Juicy Entertainment at
danny@xxxjuicy.com
. Retail customers are invited to inquire about PornFidelity's "Wanderlust" at their online or brick-and-mortar retailer of choice.