Tampa – BrattyFootGirls.com, the premier site for foot fetish Femdom, makes sure you never get a case of the Mondays, with their continued weekend updates. This week, BFG favorites give fans something to smile about with three hot new scenes. This week's featured brats are Sasha Foxxx, Jenny Jett, Naomi Swann, Ashlynn Taylor, and Goddess Cleo.
The fun begins with a GG bondage scene, "Tricked, Tied, and Worshiped 1" with Sasha and Jenny. Sasha invites Jenny over for some girl time. Sasha wants to play games, but Jenny is tired and wants to go home. Sasha promises one more game, the tie up game, which Jenny agrees to play. Jenny asks she not be tied too tightly, but Sasha has other plans. With Jenny tied up, she is at Sasha's beck and call, and Sasha can finally have Jenny's pretty feet to herself. She removes Jenny's socks, and starts licking Jenny's soles, all to Jenny's disgust. This is something Sasha always wanted, and she's just getting started. Stay tuned for part 2!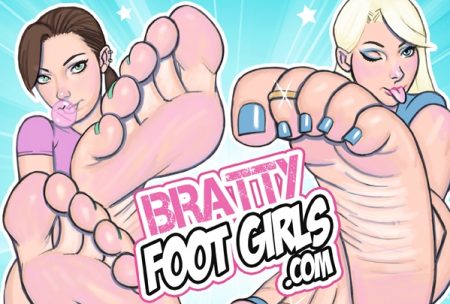 Next, Naomi and Ashlynn get to dominate their roommate in "Forced To Cum To Our Stinky Feet.". When their roommate, Jason, is watching TV, Naomi and Ashlynn decide to hang out with him, and relax by removing their feet. The smell is overwhelming, and Jason is grossed out, and complains about it. Naomi and Ashlynn know Jason hates feet, so they decide to have some fun with him. They rub their feet all over him, and finally put in a rear naked hold to knock him out. Next thing he knows, Jason is tied up, while Naomi and Ashlynn smother him with their smelly toes and give him a hand job. Jason can't help but to submit, and he finishes all over them.
The third update stars Goddess Cleo in a good, old fashioned foot humiliation scene, "Sniff My Stinky Toejam." Cleo has been wearing her sneakers with no socks all day, just to get her feet nice and ripe for her foot slave. She ties up her slave, and forces him to sniff her smelly feet, making sure her toejam smell gets up in his nostrils. He can barely handle the smell, which just makes Cleo more determined. She pinches his nose between her toes, and rubs her feet all over his face, and isn't satisfied until he is fully humiliated.
For even more femdom content, check out BrattyFootGirls.com's sister sites, BrattyBeatdowns.com and VersusFetish.com. Their customs site, BrattyCustoms.com, offers custom videos with their roster of ever changing brats. From foot fetish to femdom, there's no doubt as to why Bratty Foot Girls is known as the top name in Foot Fetish Femdom!
To get the latest news, follow Bratty Foot Girls on Twitter.
PR for Bratty Foot Girls is provided exclusively by XXX STAR PR. Follow us on Twitter, @XXXStarPR and check out our website, xxxstarpr.com. For interviews or media inquiries, contact xxxstarpr@gmail.com.