Tampa – BrattyFootGirls.com's goal is to continuously bring fans fun and sexy foot fetish clips for their viewing pleasure. As usual, BFG delivers with their three latest updates on their flagship site. With handjob, crushing and two on worship clips, there's something for each type of fetish fan. Featured performers this week include Dava Foxx, Mistress Tempted, Goddess Sunshine, and newcomer Nika Venom.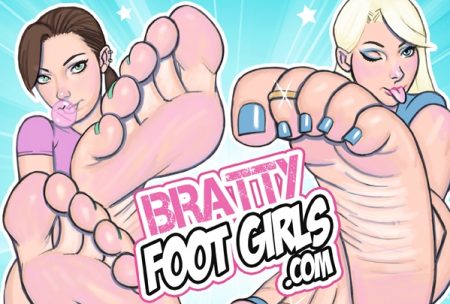 "Your Foot Diagnosis" stars Dava as the doctor who has the cure for her sexually frustrated patient. When he comes to Dr. Foxx to help him get excited for sex again, she notices him staring at her feet. Dr. Foxx is very observant, and asks if her new patient likes feet. When he says he isn't sure, she knows exactly what needs to be done, and begins teasing him with her feet. As she smothers his face with her feet, she starts jerking him off, and offers him sweet release.
For crushing and SFX fans, "Caught In My Shrinking Trap" with Mistress Tempted is for you. Based on a custom script, Tempted thinks she's home alone, not noticing her cousin is now a tiny who gets trapped under her foot. When she finally hears his tiny screams, she picks him up and asks him how he got this way. Turns out he got caught by her shrinking trap when he went into her room to smell her shoes. Now, Tempted has a lot of fun, teasing him with her wiggling toes, threatening to crush him flat.
Nika Venom makes her debut in her very first scene, "Clean Our Sweaty Dancing Soles." Nika and Goddess Sunshine return from a night of dancing, and their feet have been cooking all night. Sunshine has a surprise for Nika, and calls him her foot slave. Sunshine commands her slave to remove their shoes, and clean their sweaty feet with his tongue. The slave obeys, and they take turns having their soles and toes licked, and proceed to gag the slave with their feet. Nika realizes how fun foot worship can be!
For even more femdom content, check out BrattyFootGirls.com's sister sites, BrattyBeatdowns.com and VersusFetish.com. Their customs site, BrattyCustoms.com, offers custom videos with their roster of ever changing brats. From foot fetish to femdom, there's no doubt as to why Bratty Foot Girls is known as the top name in Foot Fetish Femdom!
To get the latest news, follow Bratty Foot Girls on Twitter.
PR for Bratty Foot Girls is provided exclusively by XXX STAR PR. Follow us on Twitter, @XXXStarPR and check out our website, xxxstarpr.com. For interviews or media inquiries, contact xxxstarpr@gmail.com.