Tampa – A new week means new updates from top fetish production studio, BrattyFootGirls.com. Three new updates await you, each with a different and tempting theme. Visiting the studio this week is Jessica Jones, Vanessa Rain, Ivory Soles, Mistress Tempted, Mikayla Miles, Domina Luna, and Stefania Mafra. So, sit back and enjoy the show!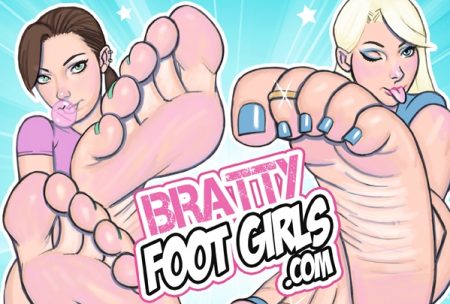 First up is Jessica and Vanessa in a fun competition, "Whose Big Feet Stink The Most". Jessica and Vanessa have been working out all day, and can't wait to get home to torture their slave, who they keep in a facebox. Their big feet have been cooking in their sneakers all day, and they begin by teasing him with their shoes and socks. Once they remove their socks to expose their huge soles, they step on his face making sure he gets a huge whiff.
Mistress Tempted returns for "Forcing The IT Guy To Cum 2", this time joined by Ivory. Tempted had her fun with the IT guy a couple of weeks ago, and now she calls her friend, Ivory, to join in. Lying about laptop issues, the girls once again begin their humiliation of IT guy, forcing him to lick their feet clean, while giving him a footjob through his pants. As he gets harder, the girls just get meaner, until he can't hold it in any longer. The IT guy cums in his pants, just in time for his boss to walk in and see him on the floor.
Lastly, fans of trampling get triple the pleasure in "Triple Extreme Crush". Amazonian Mikayla has her friends Domina and Stefania join her in using her slave as a doormat. They dish out as much as they can, and their slave feels the weight of their combined 550 lbs. Stepping on his face isn't quite enough, so they make sure to crush his chest and stomach as well. But, the ultimate domination comes when their slave gets a proper ball stomping!
For even more femdom content, check out BrattyFootGirls.com's sister sites, BrattyBeatdowns.com and VersusFetish.com. Their customs site, BrattyCustoms.com, offers custom videos with their roster of ever changing brats. From foot fetish to femdom, there's no doubt as to why Bratty Foot Girls is known as the top name in Foot Fetish Femdom!
To get the latest news, follow Bratty Foot Girls on Twitter.
PR for Bratty Foot Girls is provided exclusively by XXX STAR PR. Follow us on Twitter, @XXXStarPR and check out our website, xxxstarpr.com. For interviews or media inquiries, contact xxxstarpr@gmail.com.