Seattle – Laz Fyre is bringing fans a one of a kind series that tells the story of the love between The Joker and Harley Quinn. Laz brings new life to the character of The Joker, as he breaks down the walls built around Dr. Harley Quinzel, brought to life by Leya Falcon. Directed by Lady Olivia Fyre (Laz's wife), and with cinematography by Kimberly Kane, these scenes will please cosplay fans, as well as fans of Laz and Leya.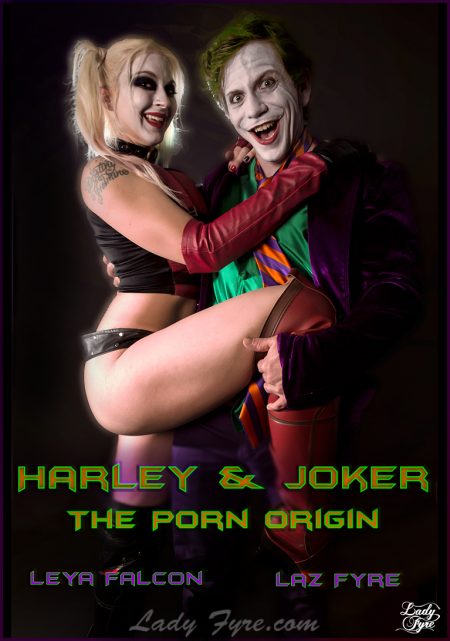 The first scene shows the first encounter between "Mister J" and Dr. Quinzel, during their first therapy session together. Dr. Quinzel gets the Joker to open up about his horrific childhood, which prompts the doctor to ask more questions. The Joker has told her enough, and becomes evasive. But, The Joker is already coming up with a plan to get Dr. Quinzel all to himself. The second starts with Dr. Quinzel stripped down and tied up, as The Joker taunts her before sliding his shaft into her mouth. Dr. Quinzel starts to enjoy this more and more, until she totally surrenders to him. The next three scenes follow the transformation of Dr. Quinzel to Harley Quinn, as she accepts her new found freedom, and she and the Joker enjoy some of the most amazing sex of their twisted lives. The story is also available on ManyVids and iWantClips as well, and will soon be released on VOD on HotMovies.com.
This series is a dream come true for Laz, who said, "I have always dreamt of having a chance to play the Joker ever since seeing Jack Nicholson's performance in the 1989 Batman. The opportunity to write my own scene and act it out was a tremendous labor of love and I am so grateful that we were able to pull it off. Leya was selected to perform the part of Harley Quinn because of how in tune she is with the character. The woman IS Harley. She is not acting. She is out of her delightful & sexy mind. Olivia, Kimberly, Leya and I all put our very best into creating a story that was both intense and emotionally evocative. I am proud to be a part of it."
And, of course, Leya was right in her element with this scene. The blonde beauty commented, "I had a shit ton of fun making it because of my obvious over the top obsession with Harley. I didn't even feel like I was acting with it as the character's personality is in line with my own. The production quality truly rivals that of bigger name and big budget productions. You can see the love and care put into making the scene and the characters as authentic as possible. Even after we were done shooting we went out to dinner in our costumes and had a lot of fun. I definitely recommend this to any Harley fan in general (not just my own fans) as I know they will appreciate the way I portray her, how Laz portrays Joker and how the scenes all came together, it's definitely one for the true comic fans out there."
Be sure to check out all of Laz and Lady's clips on their official Clips4Sale store for other cosplay, femdom, and more, featuring some of the hottest performers in the industry, including Cali Carter, Lily Lane, Taurus Angel, Lauren Phillips, Raquel Roper. Custom clip requests can be made on Lady Olivia Fyre's official website, LadyFyre.com.
For more on the sexy couple, follow them on their official Twitter accounts, @LazFyre and @LadyOFyre.
Follow us on Twitter, @XXXStarPR and check out our website, xxxstarpr.com. For interviews or media inquiries, contact xxxstarpr@gmail.com.