OCTOBER 10–After engaging in a threesome with a third male, a Florida couple dealing with "trust issues" got into a confrontation that ended early yesterday with the arrest of one of the men, Florida cops report.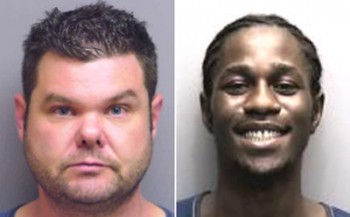 Adam Cole, 39, and Johnny Anderson, 23, are domestic partners who "reside together as a family" in a Bradenton home, according to a Manatee County Sheriff's Office report. Cole (left) and Anderson are pictured in the adjacent mug shots.
A sheriff's deputy noted that Cole said he and Anderson "had a threesome (three males) earlier in the day," and that Anderson "became paranoid with trust issues." [The report apparently includes a typo, since it chalks up Anderson's reported paranoia to "thrust issues."]
Cole added that Anderson became irate and punched a hole in a wall, and then tried to keep him from leaving the residence. Anderson subsequently punched Cole's car, denting the vehicle's door and nearly breaking a window.
When questioned by an investigator, Anderson copped to punching the car window, but added that he had no intention of harming Cole. "I love him but he cheated on me three times and I forgive him."
Anderson was arrested for misdemeanor domestic assault and booked into the county jail, where he is being held in lieu of $500 bond.
In April, Cole was arrested for felony domestic battery following an argument with Anderson, "his fiancé." As detailed in a Bradenton Police Department report, when Anderson tried to get into the passenger side of Cole's vehicle, Cole drove away while Anderson held onto the car door. After being dragged for 100 feet, Anderson "let go resulting in several abrasions on his person."
A month after the dragging incident, prosecutors declined to pursue charges against Cole. For his part, Anderson refused to sign a complaint affidavit against Cole.
Source The Smoking Gun