One day after news hit that a bondage-themed short film starring Miley Cyrus would be screened at the NYC Porn Film Festival, the New York Post is reporting that the singer's representatives have had the film pulled from the Bushwick Brooklyn event.
The festival's organizer lied when he said Cyrus had personally submitted the film — a 3-minute erotic, bondage-heavy short titled "Tongue Tied" — and then misled the production company Cadence Films into granting permission to use it, her representatives said Tuesday night. The producers and the singer's representatives asked organizer Simon Leahy to remove the film from the festival and its online listings, which Leahy did Tuesday night.

"Miley was proud to make a film with acclaimed filmmaker Quentin Jones. She did not instigate this festival submission and is not participating in any way," a spokesperson for the "We Can't Stop" singer says.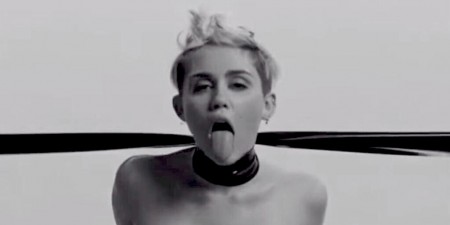 Yanked
Although Cadence had in fact granted permission for the film to be shown, Cyrus' camp says the emails with the fest's organizer were misleading, because the festival had been presented merely as a "shorts screening at the artist ran space Secret project Robot," an arts space in Bushwick.
"Obviously the story went totally viral that freaked everyone out," Leahy said.
The short, on which she collaborated with artist Quentin Jones, was often shown during her "Bangerz" tour, and made its debut in May.