Oneal Ron Morris was arrested on November 18, charged with practicing medicine without a license and causing serious bodily harm – but has since been bonded out on bail, reported NBCMiami.com.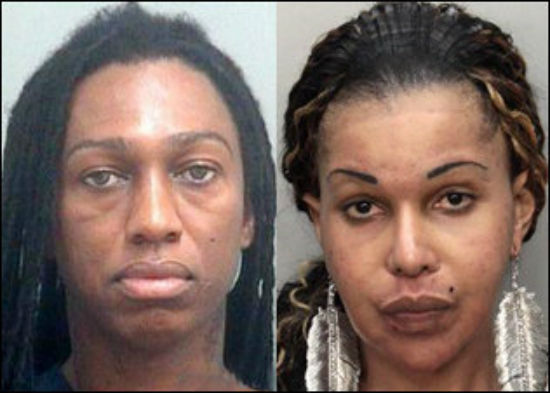 Allegedly, 30-year-old Morris billed an unidentified woman $700 for a series of ass-enhancing injections in May 2010.
Reportedly, the woman was overcome with excruciating pain, but was too embarrassed to tell a doctor what had happened, despite numerous hospital visits. She has since had to undergo several surgeries.
Several other victims claim they had similar bad experiences with the fake Dr. Fix-A-Flat, whose own huge ass is the result of her injecting herself with the toxic potion…and ultimately suffering self-inflicted, life-threatening injuries, according to Jennifer Hirst, a spokesperson for the Florida Department of Health.
Lab results determined that the substances injected into the victim included household and automotive products to include superglue, mineral oil and Fix-a-Flat, according to an e-mail statement from the DOH.
Police also arrested Corey Alexander Eubank, Morris's alleged assistant, as part of their ongoing investigation. Eubank, 40, has been charged with two counts of unlicensed practice of a healthcare professional with serious injury and two counts of acting as a principal, according to the Miami Herald. The newspaper also describes Eubank's job duties: escorting patient-victims into and out of the operating room, preparing the operating table, and selling them "support garments" to help them recover. The support garments did not prevent other side effects of the operation, such as intense pain or permanent scarring.
Bond was originally set at $15K for Morris. Morris bonded out of jail, but was rearrested on new charges after a second alleged victim complained to the authorities. Morris then bonded out again, along with Eubank.
Morris' attorney has been quoted as claiming that his "client is emphatic that these allegations are false and she is prepared to fight this in court."
Health officials are encouraging anyone with more information on the case to contact their local law enforcement or the DOH website to view license information. Complaints can also be filed anonymously through the site or by calling 1-877-HALT-ULA (1-877-425-8852)