Award-winning adult performer Casey Calvert stars in Naughty America's Casey Calvert: Volume 1. The movie is Calvert's first compilation and features five acclaimed sex scenes from Naughty America, all with the young starlet. The title is now available from distributor Pure Play Media.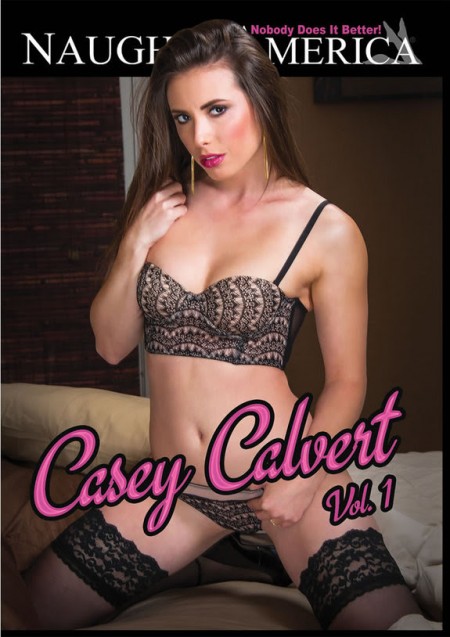 "I am very thankful to Naughty America for this amazing opportunity to showcase my work," Calvert said. "I'm extremely proud of each of the scenes they selected for the compilation, as they were created by some very talented directors and included some amazing co-stars. It's everything I would want in an adult movie!"
"Casey Calvert: Volume 1" spotlights Calvert in five hardcore vignettes where she teases and flirts with horny studs who ravish the sexy brunette and bring her intense and satisfying climaxes. Whether wearing BDSM gear, pretty lace panties and black stockings, or her sexiest little black dress, the youthful adult star dials up the passion with electrifying results.
"Nobody does it better than Naughty America, and showcasing today's top talent is where the content truly shines," says Mike L., sales rep for Pure Play Media. "'Casey Calvert' is the first volume of the award-winning studio's spotlight feature on BDSM expert and super-slut Casey Calvert. A starlet as authentic and magnetic as Casey elevates every title she appears in, and Naughty America shows its appreciation for the horny brunette in a dedicated reel of sexy scenes that'll keep fans coming back again and again."
Casey Calvert: Volume 1 includes exclusive interview footage with the adult star, movie trailers, photo slideshow, animated chapter index, and more. For more information on Casey Calvert: Volume 1, and box art, click here.
The release of Casey Calvert: Volume 1 follows Calvert's nomination for Best Butt at the upcoming 23rd Annual NightMoves Awards to be held on Sunday, October 11 in Tampa, Florida by NightMoves magazine. The event honors the adult industry's top films, stars, and filmmakers, as voted by fans across the country.
2015 has been an important year for Casey Calvert. After being named Unsung Siren of the Year at the 2015 XRCO (X Rated Critics Organization) Awards, an award which honors excellence without due recognition from the media, Casey set out to turn the tables and make a name for herself with the media. Since April, she has been featured in Huffington Post, Mandatory.com, Refinery 29, NextShark.com, Ravishly.com, CraveOnline, and many other top news and entertainment sites. She is also starring in the new television campaign for WeAre18.com and is the official BDSM & Fetish Expert for GameLink.com
Media interested in interviewing Casey Calvert, or speaking to her regarding articles on adult entertainment, sexuality, BDSM, and more, may email Team@CaseyCalvert.com.
About Casey Calvert: 
Casey Calvert, the fetish model turned rising adult star began watching porn at a young age, but didn't lose her virginity until she was 21. Recognizing a deep-seated desire to act out her strongest sexual urgings, Casey decided to wait to for the perfect fetish-themed experience to have sex for the first time. Self-admittedly kinky before she knew what it was, Casey has experimented with all types of fetish play, and takes pleasure in pushing the boundaries of BDSM. With a first name deriving from "K" and "C", the initials of her celebrity crushes' children, and a last name stemming from a college professor who taught her about first amendment law and pornography, the athletic and curvy newcomer embraces porn as a way to "explore fantasies that aren't safe in the real world." Already nominated for numerous AVN and XBIZ Awards, as well as the 2015 XRCO Unsung Siren award, and boasting modeling credits in Hustler's Taboo, AVN, and the Mammoth Book of Erotic Photography, the University of Florida magna cum laude grad's resume also includes writing about sexuality and culture for outlets, such as The Huffington Post. Casey also educates on the topics of BDSM and fetishes through live appearances around the country, such as speaking to university students at UCLA. Additionally, adult e-tail site GameLink.com enlists her services as its official BDSM & Fetish Expert. Open-minded, adventurous, and open to try anything at least once, Casey is focused on seizing the moment and on making her mark as a star, director, and producer. Find more information about Casey Calvert at www.caseycalvert.com/ and follow her on social media at  www.twitter.com/caseycalvertxxx and