Everyone's favorite octogenarians are back at it again.
Lisa Ann starts bitching about a nearly four year old Tweet from Nikki Benz because Nikki commented on another performer's Instagram. OH NO! Ironic to see these complaints from the biggest bully in the business.
Gee Lisa, your family couldn't possibly not want to be around you for any other reason than a tweet from Nikki Benz? Because you're a real ray of sunshine. Such a fine humanitarian. I'd rather be locked in a confined space with James Bartholet. As least there would be nose candy.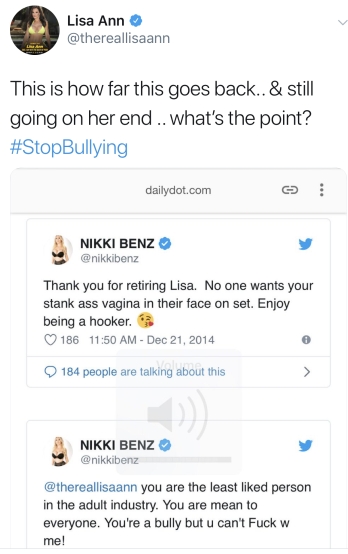 It's from 2014. Surely somebody else has said something mean to you between now and then right? Please bitcv about something else.
You can read what happened when Lisa Ann tried starting shit last time with Nikki Benz and how that didn't end too well for Lisa Ann.
Maybe Lisa Ann can try crowdfunding for another lawsuit. She's got to keep her rate up just like Stormy. For fun here's Lisa Ann's bogus claims being completely destroyed by surveillance video from Jules Jordan's world HQ.
Go away Lisa Ann, and take your "stank ass vagina" and Ginger Banks with you.