Readers will recall that, earlier this month, newly retired adult star Lisa Ann filed for a Civil Harassment Restraining Order against adult star and Penthouse Pet of the Year Nikki Benz, stating that she was afraid of Benz, who, she claimed, had threatened her. The order seeks to keep Benz far away from Lisa Ann, and also to enjoin by injunction Benz's ability tweet about her (i.e., a "prior restraint" of her speech).
Thursday, in an anti-SLAPP motion filed in Los Angeles Superior Court by her attorney, Stephen M. Kernan, Nikki Benz called Lisa Ann's legal maneuver a frivolous "publicity stunt" and called for its complete dismissal.
California's anti-SLAPP statute provides for a special motion to strike a complaint that arises from activity exercising the rights of petition and free speech.
Benz's motion states that Lisa Ann's action is ripe for the application of the anti-SLAPP statute "as it is obviously nothing more than a publicity stunt by Petitioner to get media attention. The overburdened court system should not be involved in a fading porn actress's attempt at garnering publicity."
The statement of facts contained in Benz's motion is delightfully brutal:
The parties in this action are both in the adult entertainment industry. Respondent [ ] Nikki Benz is a famous adult entertainer at the height of her career. Petitioner Lisa Ann Murphy is a retired adult entertainer who is trying to remain relevant. She is heavily disliked in the industry and this frivolous lawsuit is nothing more than an attempt to gamer publicity through this action. (citation omitted)

On December 21, 2014, the instant dispute commenced by Petitioner calling Ms. Benz a prostitute while she was on a trip for her birthday to Dubai…. Ms. Benz responded and Petitioner and Ms. Benz went back and forth. It was a Twitter "battle" launched by Petitioner herself. There was no harassment or threats. Ms. Benz was merely responding to false, personal attacks by Petitioner. (footnote omitted)

After this Twitter "battle," which Petitioner was obsessing over, the Petitioner and Respondent both attended the XBIZ Awards on January 15, 2015. Petitioner and Ms. Benz never met at the award show in person. No words were exchanged and certainly no threats were made. (citations omitted)
The motion also raises some points that TRPWL noted in its coverage: that, despite Lisa Ann's claims that she was too afraid to attend the AVN show in order to receive her lifetime achievement award, she in fact DID attend the event, and was NOT scheduled to receive any such award:
After the XBIZ awards, Petitioner did attend the AVN Award Show in Las Vegas (despite her statement to the contrary). She walked the red carpet at the show, but did not go inside. She was never scheduled to receive a lifetime achievement award and did not expect one due to her poor standing in the industry. (citations omitted)

Petitioner's lawsuit here, like her false claim that she was to receive a "lifetime achievement award," is simply a big lie. This lawsuit is nothing more than a publicity stunt by an adult entertainer who is starved for attention. There is no credible evidence of any harassment or threats by Ms. Benz. In addition, Petitioner's false claims of harassment and threats are completely refuted by a host of declarations of eye witnesses at the XBIZ Awards who testified that no threats were made. Therefore, Ms. Benz respectfully requests that the Court grant this Motion.
Benz's motion relies on the assertion that any tweets or statements she may have made about Lisa Ann constitute constitutionally protected speech, and do not constitute actionable harassment.
The motion is supported by signed declarations by adult stars Jesse (fka Jesse Jane) and Jayden Jaymes, as well as AVN's Peter Warren. Jaymes' statement is particularly damning in its first-hand account of Lisa Ann's "obsession" with Benz.
In 'Attachment 7a(3)' to the Request for Civil Harassment Restraining Orders, when Murphy is describing alleged harassment, she claims that on the evening of January 15, 2015, while in attendance at an industry event [the XBiz Awards] at the JW Marriott, [Benz] approached her several times in a threatening and intimidating manner. As Murphy's 'date' for the evening, we had driven to the event from her home together, arrived together, walked the red carpet together, had a restroom break together, left together, and went back to her home together. Aside from the twenty minutes Murphy was away from our private table at the event to present an award, she was at my side the entire time. While Murphy was backstage and onstage presenting the award, [Benz] was seated at a table amongst friends in my sight. [Benz] never approached Murphy. Not once. In fact, nobody approached Murphy that evening as she doesn't appear to be well liked amongst her peers. Murphy and I kept to ourselves that evening in an attempt to avoid any unnecessary interactions and we were not aware of any threatening behavior by [Benz] or any other individual.

Murphy and I had already left this event and were at her home when [Benz] presented an award on stage. Through several text messages, Murphy was informed that [Benz] had made several unnecessary comments while presenting the award. Murphy and I did not witness this action by [Benz].

I had spent ten days with Murphy during this time period, as a guest in her home while on a business trip, in addition to spending time over the holidays to help care for her post-surgery. I was with Murphy when she tweeted her thoughts about a female in Dubai, and I advised against it. From there, the Twitter drama escalated due to [Benz]'s excessive responses while Murphy attempted not make any public comments while recovering from surgery. In the approximately 15 days that I spent with Murphy in the month's period of time from when the tweets started up to the Las Vegas event on January 24th, Murphy spent several hours each day talking about [Benz], telling others about the situation with [Benz], looking at [Benz]'s Twitter timeline 10 to 20 times per day, and practically obsessing about [Benz]'s every movement. Every single individual that she spoke to about the situation, including myself, advised her to "move on" or "get over it", to just stop looking, stop obsessing, stop responding, and stop talking about the ordeal with [Benz]. Although Murphy had expressed concern over threatening phone calls that she had been receiving at this same time, assuming this had something to do with [Benz], I never personally witnessed any violent, threatening, abusive, or intimidating behavior of any kind, from anyone. (It is also not uncommon for personal information, such as phone numbers and addresses, to get into the wrong hands and to be annoyed by crazed fans occasionally.)

I did not spend any personal time with [Benz] during this time and I am unaware of her behavior. But, during the time I spent with Murphy, I witnessed extremely obsessive behavior in regards to [Benz].
A hearing on Benz's motion, reproduced below, is set for March 23.
In a statement issued Friday, Benz said, "I take the filing of Lisa Ann's frivolous case against me very seriously and intend to aggressively pursue all legal options against her, including the recovery of all my legal fees.
"The action she filed was a publicity stunt—nothing more, nothing less. I am looking forward to our day in court."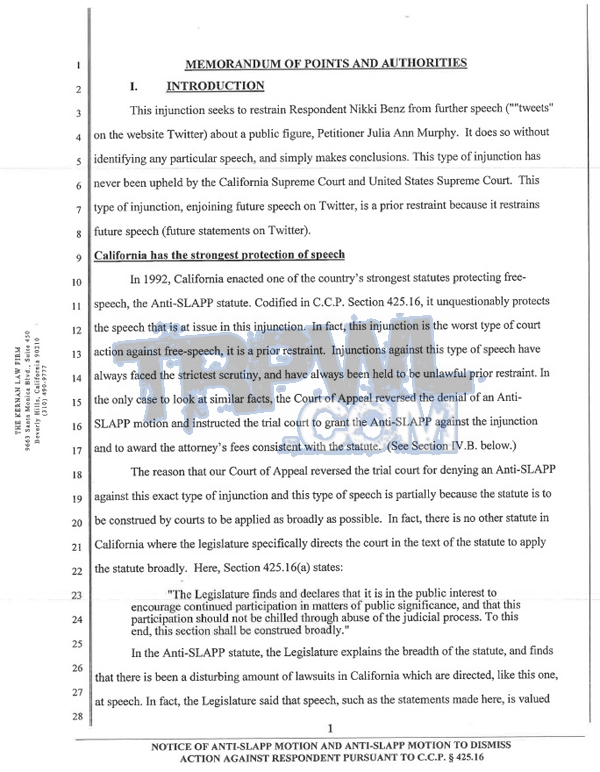 EXHIBIT C, which explains what XBiz and the XBiz Awards are, has been omitted