Award-Winning Superstar Formerly Known as Jesse Jane® Will Sign Autographs Daily at Jules Jordan Video's Adult Entertainment Expo Booth!
Adult superstar Jesse – previously known as Jesse Jane® – has signed an exclusive performance contract with Jules Jordan Video. Under the two-year exclusive deal, Jesse will perform in eight movies per year for the studio – her first movie will release in February. Jesse will also collaborate on various projects with the company and will sign at its Adult Entertainment Expo booth in Las Vegas.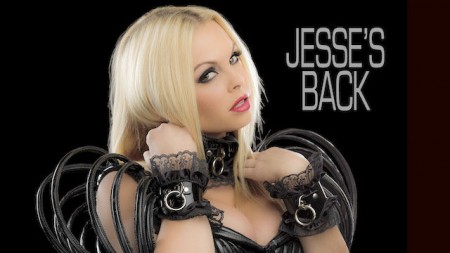 "I have a lot of respect for Jules' work and all that he has achieved over the years," Jesse said. "I am very thankful to him for the opportunity to join his amazing studio and be a part of very talented and creative team."
"Jesse: Alpha Female," the superstar's first movie for Jules Jordan Video, will release in February. It is a series of vignettes featuring Jesse in a dominant role with fetish themes. It is also the first movie shot entirely in 4K by Jules Jordan Video.
"To have Jesse exclusive to Jules Jordan Video is a game changer," studio owner Jules Jordan said. "I'm extremely honored to be able to work with such a legend in the adult film industry. I believe our collaborations will give fans a unique and new showcase for her beauty and sexual ferocity."
"Expect to see Jesse in more action and tease, with less script," added Jordan.
At the Adult Entertainment Expo (AEE) in Las Vegas, Jesse will sign autographs and pose for photos with fans daily at Jules Jordan Video booth #905 in Hard Rock Hotel & Casino's Muse Hall.
In addition to filming Jesse in adult movies, Jules Jordan Video will manage her official website, JesseXXX.com. The site will feature unreleased original content and full-length films. Jesse will also participate in regular webcam shows and chats.
The marriage of Jesse and Jules Jordan Video combines a performer already known for her amazing sex scenes with one of the most awarded, hardcore gonzo studios of all time. "Signing with Jules Jordan Video gives me a platform and studio support to really take my performances to the next level," stated Jesse. "I'm really excited to give fans the hardcore scenes they've always dreamed of seeing me in."
Jesse is the recipient of eight AVN Awards, including multiple awards for Best All-Girl Sex Scene and Best All-Girl Group Scene, as well as Best Supporting Actress in 2011 for her work on "Fighters." She also earned the XBIZ Award for Best Scene – Feature Movie last year for "Code of Honor," as well as Best Scene – All-Girl in 2013 for "Mothers & Daughters."
Future information on "Jesse: Alpha Female" will be provided via Jules Jordan Video's B2B site, JulesJordanVideo.com, and subscription site, JulesJordan.com.
About Jesse:
In 2003, the world was introduced to Jesse Jane®, the gorgeous, all-American cheerleader-next-door, who revolutionized the very essence of the term "porn star." The blonde bombshell caught the attention of millions of men and women around the globe, glamorizing the adult entertainment industry. Originally from Fort Worth, Texas, Jesse's fame exploded shortly after her adult industry debut, and she quickly gained worldwide fans by gracing the cover of nearly every men's interest magazine on the planet, from Playboy to Maxim, FHM and Arena. Further building her brand, Jesse went on to guest star on TV shows such as HBO's "Entourage" and Oxygen's "The Bad Girls Club," as well as guest host shows on VH1, MuchMusic and CTV. Jesse also earned a feature role in "Baywatch: The Movie," character roles on "Gene Simmons Family Jewels," "Celebrity Uncensored," and "Celebrity Fit Club," and starring in many music video roles. As a media darling, the crowned sex incarnate has thrice been featured on prime time T.V. Once in 2009 during the CNBC-aired documentary, "Porn: Business of Pleasure," in which Jesse's career and life outside the porn industry received a full 10 minute focus, and again in 2011 when CNBC named her one of the 12 most popular stars in porn. During the latter segment, CNBC declared her "the face of modern porn," A multi-faceted talent, Jesse has been the recipient of the AVN Award eight times, including multiple times for Best All Girl Sex Scene and Best All Girl Group Scene, as well as Best Supporting Actress. She is also the recipient of XBIZ, and FAME awards multiple times, as well an inductee of the AVN Hall of Fame in 2013 and the XRCO Hall of Fame in 2012. Today, Jesse is a contract star for renowned adult film studio Jules Jordan Video. Jesse is online at www.Jessexxx.com and https://twitter.com/jessejane.
About Jules Jordan:
A one-time adult video store clerk, Director Jules Jordan is now considered one of the most successful directors/producers ever in the adult industry. Earning acclaim and respect as a sales rep with distributing giant IVD and then as a director, Jordan created Jules Jordan Video in 2001. As a producer at Evil Angel, Jules Jordan Video received countless awards, including Best Director, from top critics AVN, XRCO, and XBIZ. In 2006, Jules Jordan Video expanded into distribution, partnering with the directing/producing talents of Jenna Haze, Erik Everhard, Chris Streams, Mike John, Alexander Devoe, and Cruel Media. Newer partnerships with Vince Voyeur, Reality Kings, Bang Bros and Kink.com make Jules Jordan Video the industry's leading porn powerhouse. For more information visit www.julesjordan.com, www.julesjordanvideo.com or www.twitter.com/julesjordan.